Insurgency began to gain momentum in Kashmir after the elections of 23 March 1987. Syed
Muhammad Yousuf Shah, a candidate of Muslim United Front, was contesting from Amira kadal
Constituency. As the results were declared, the less popular Ghulam Mohiudin Shah of opponent
National Conference was declared as the winner from Amira kadal constituency. The election was
widely perceived to have been rigged. People further lost hope in electoral politics and initiated the
armed resistance in Kashmir against India. India responded to the armed resistance which lead to
various war crimes like gang rapes, murder, torture, disappearance, snatching of civil liberty and
violation of Human Rights. On 26 May 2008, the agreement of Central Government and State
government to transfer 99 acres of forest land to Amarnath Shrine board for Hindu Pilgrims escalated
massive protests and demonstrations largest of which saw more than 500,000 protestors in a single
rally.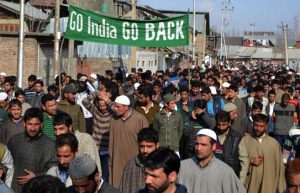 The Resistance leadership termed it as a conspiracy to change the demographic structure of
Kashmir. Curfew was imposed to stop protestors from gathering and forces opened fire on civilians
which resulted in killing of 14 civilians. The killings gave rise to another indigenous uprising. The
beginning of the second uprising by local groups and youths lead to massive redeployment of Indian
security forces followed by countless incidents of violence and killings. The death of Burhan Wani, a
commander of armed group Hizbul Mujahideen, gave rise to another uprising which led to protests in
all 10 districts of Kashmir resulting in killing of around 120 civilians. The mobile telephone networks
and internet services remained dismantled to prevent further agitation. Newspapers failed to publish
for five consecutive days due to raids on their offices and printing presses, till they started again on
July 21. The apparently indiscriminate use of allegedly "non-lethal" weapons like pellet guns to control
crowds have resulted in almost 43 civilians having lost their lives so far. Hundreds have been blinded
and a few thousand injured.
United Nations Human Rights Office published first ever report in June 2018 on Human Rights
situation in Kashmir calling for international inquiry into multiple violations. UN High Commissioner forHuman Rights Zeid Ra'ad Al Hussein said, "The political dimensions of the dispute between India and
Pakistan have long been centre-stage, but this is not a conflict frozen in time. It is a conflict that has
robbed millions of their basic human rights, and continues to this day to inflict untold suffering. This is
why any resolution of the political situation in Kashmir must entail a commitment to end the cycles of
violence and ensure accountability for past and current violations and abuses by all parties, and
provide redress for victims. It is also why I will be urging the UN Human Rights Council to consider
establishing a commission of inquiry to conduct a comprehensive independent international
investigation into allegations of human rights violations in Kashmir. It is essential the Indian authorities
take immediate and effective steps to avoid a repetition of the numerous examples of excessive use
of force by security forces in Kashmir".
In response to the report, India blamed the United NationHuman Rights Council for being prejudiced and building fake narrative. The Official Spokesperson ofMinistry of external affairs of India said "India rejects the report. It is fallacious, tendentious andmotivated. We question the intent in bringing out such a report. It is a selective compilation of largelyunverified information. It is overtly prejudiced and seeks to build a false narrative.
In June 2013, Former Union Minister of external affairs of Government of India, Salman Khurshid
inaugurated a 3 days International conference at the University of Kashmir. While addressing the
gathering of politicians, diplomats and academics, he said, "We want dialogue within Afghanistan that
should be led by Afghans. They must choose their own destiny…We want Afghanistan to be
controlled by Afghans". But when it come to Kashmir, India has either avoided or denied any attempt
by the International community towards the resolution of Kashmir issue in a democratic way. In India,
it is illegal to exclude Azad Kashmir in its map while in Pakistan; it is illegal to not include Jammu and
Kashmir as a disputed territory. An impartial Plebiscite, if conducted, would out rule all the disputes
and bring all parties to a consensus. Opportunistic Preconditions create an environment of mistrust in
which sincere efforts towards the resolution fail to flourish. India's refusal to conduct plebiscite,
despite being a democracy with faith in democratic values, continues to be a hurdle in the path of
peacefully resolving a longest pending territorial dispute between the nuclear countries with a
potential to disrupt the peace and stability of entire Asian subcontinent.