The year of 2018 was one of the deadliest years in the history of Kashmir with 586 People killed, 160
of which were civilians including 31 children and 18 women. According to the Reports, 120 cases of
Damage to the civilian property were reported, 31 houses were completely burnt and 94 partially
damaged. Hundreds of People suffered Pellet injuries resulting in Partial or complete blindness. Since
2010, pellet guns have killed more than two dozen people. There have been cases of deaths caused
by suffocation due to Gas shells used to disperse the crowd. Violence is not something new for the
people of the Vale; it is a part of their daily life, which is both psychologically and politically alarming.
Kashmir, a princely state, shares its border with three neighbouring nuclear countries, each
claiming a chunk of its land and having fought multiple wars over the unresolved territorial disputes.
It's strategic location, natural resources, potential for tourism, Forests, Rivers and Hydro electricity
generating potential and its link with ancient silk route add to its geopolitical importance. So, what is
the Kashmir issue basically?
Kashmir issue is an Issue of unfinished partition and incomplete accession. Kashmir doesn't
demand a new solution but completion of unfinished business of past. Unification is the ultimate goal,
denial of which has led to escalation of violence. People of Kashmir, unlike the minority, have refused
to accept the controversial status of unfinished territorial dispute. Britain, as it became clear after the
Second World War, was going to quit India very soon. Princely India consisted of more than 562
princely states of varying sizes, populations and statures, Jammu and Kashmir being the largest
Princely state sharing boundaries with Afghanistan and China.
Britain departed in 1947 and the British suzerainty over the princely states lapsed as per the Indian
Independence Act. The state of Jammu and Kashmir, with other princely states, enjoyed a brief and
temporary period of independence followed by a choice to accede with any of the two newly created
dominions of India and Pakistan as per the same act. Except Jammu and Kashmir, Junagarh,
Hyderabad, Manavadar and Mangrol, all other princely states had decided their future by 15 August,
1947. Hyderabad was annexed by India by applying economic pressure and Military might. Junagarh
being a Hindu Majority area ruled by a Muslim Nawab acceded to Pakistan followed by Manavadar
and Mangrol. India did not recognise the Nawab's accession; India forced entry into Junagarh and
enabled Plebiscite which turned into their favour.
In Poonch Jagir of Jammu and Kashmir, 'No Tax' movement followed by Disarming of Muslims who
fought the World war second and later arming the Hindu and Sikh community and Massacre of More
than a Quarter million Muslims, Rapes and enforced migrations by Hindu Dogras and Sikhs for
religious cum political reasons and aided by Maharaja, RSS and Sikhs from Punjab gave rise to
Junagarh Inspired Poonch Rebellion which led to liberation of what we now call the Azad Kashmir
from Maharaja by the Muslims. Maharaja Loosing the grip over his state or being partially
overthroned, acceded with India on 26 October 1947 by signing a controversial Instrument of
accession, the authenticity of which is doubted by many historians, against the will of the Majority of
his subjects which gave birth to Kashmir Dispute. According to the terms of Instrument of accession,
India's Jurisdiction was extended to defende, Communication and external affairs. Indian sent her
troops into Kashmir the next day which have increased in numbers up to almost One million till today,
thus making Kashmir the highest Militarized Zone on the Earth.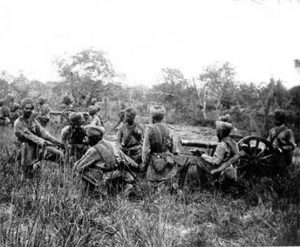 India and Pakistan have fought 4 wars in 1947, 1965, 1971 and 1999 respectively; shortly after
gaining Independence and unfinished land disputes have been the dominating factors in these wars.
India approached United Nations Security Council on 1 January 1948. Following the set-up of the
United Nations Commission for India and Pakistan (UNCIP), the UN Security Council passed
Resolution 47 on 21 April 1948 followed by many other resolutions. In 1948, UNSC passed resolution
38, 39, 47 and 51. It passed Resolution 80 in 1950, Resolution 91 and 96 in 1951, Resolution 97 in
1952, Resolution 122,123 and 126 in 1957, Resolution 209, 210, 211, 214, 215 in 1965 and
Resolution 303 and 307 in 1971. The involvement of the Canadian President of the UNSC, General
McNaughton, Sir Owen Dixon, American ambassador Loy Henderson, Dr Frank Graham and various
others to resolve the Kashmir dispute and their proposals proved futile because of India's
disagreement with most of them and the failure to provide any alternate resolution. The UNCIP was
terminated followed by the establishment of United Nations Military Observer Group in India and
Pakistan (UNMOGIP), after the Security Council passed Resolution 91 (1951), to observe and report
violations of ceasefire. India and Pakistan signed the Shimla Agreement in 1972, followed by the war
of 1971, to define the line of control in Kashmir. Later on the basis of this agreement, India justified
the lapse of UNMOGIP's Mandate arguing that the body was established to observe ceasefire
according to Karachi Agreement, a UNCIP supervised agreement signed by the military
representatives of India and Pakistan in 1949 to establish a ceasefire monitored by UN observers,
and the ceasefire no longer existed. The United Nation Secretary General however maintained that
the body should continue to function as no resolution to terminate it had been passed. India has,
since then, partially restricted the activities of 45 unarmed observers on the Indian side of the Line of
Control.
Thank you for having read the first part of this article on the Kashmir dispute. The second part comes tomorrow !