By Adrien Gonin, Palau de la Generalitat, Placa de Sant Jaume
Current politic and economic situation in Catalonia
Catalonia is seeking since the new election of its president, Puigdemont, to a secession process with the Spanish government. After 100 days of presidency of Puigdemont, the Catalan parliament has for the first time the majority for the independence. Catalonia represents the second strongest region in Spain, with 28 181€ GDP per inhabitant, compare to 22 800€ in Spain and a lower unemployment rate (20,3% versus 24,5% for Spain) – but still very high. Catalonia is also the first region to receive foreign investment in Spain, with an increase of 57% between 2014 and 2015.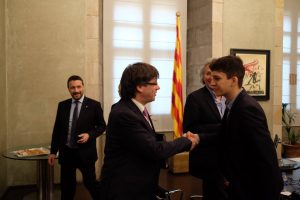 A Dialogue on the independence referendum between Spanish and Catalonian government is still not existing 
After his meeting with Spanish president Rajoy, Puigdemont emitted again the wish to have an open dialogue with his Spain: "We need a free discussion on the independence process, we need to create a new relation with Spain. Today, the government refuses to organize a referendum. A dialogue between us and Spain is necessary." Puigdemont also deplores the consequences for the international image of both parties: "I told Mr Rajoy the image of Spain would be tremendously improved internationally if he agreed on the staging of a referendum with Catalonia."
Puigdemont also highlighted the lack of state investment in Catalonia, whereas Catalonia contributes as Spain´s rich region to the national treasury. His delegate to foreign affairs, Raül Romeva completed: "Catalonia represents 20% of Spanish GDB and we only receive 7% Spanish investments. Spain investments are too low. Nevertheless, it is our first trade partner. We hope for a better cooperation with Spain, the current relationship is damaging us both."
Finally, Catalan´s leader presented a list of 46 points to Rajoy for a better collaboration with Spain: "I think our obligation is to dialog, we wish to become independent in a democratic way but there is no possibility to negotiate with Madrid."
Peaceful movements and citizens claiming for a referendum
During the last years Catalonia had 5 strong mobilizations in the streets. This mobilizations stayed peaceful and no violence has been resented. As a fact, there is a demand for an official referendum in Catalonia but it doesn´t mean there is a strong majority for the independence.
The government and reporters can only use the data of the regional elections from February, 27th 2016. The results didn´t show any strong majority for or against the independence movement:
Results of the regional elections, 27.02.16:
48% strongly in favor of the independence
39% strongly against
13% uncertain
There are no similarities between Catalonia´s current situation and previous claims for independence declared Puigdemont – "Spain is not a dictatorship, we won´t declare our independence unilaterally."
The first step is the referendum, depending on the following results, Spain and Catalonia will have to face decisions regarding the status of Catalonia in Spain or as an independent state.
New Spanish government? New dialogue?
Since general election in December 2015, Spain´s parties have failed to agree on the creation of a new government, fresh election will be called this summer. It seems that the left party Podemos has the key for the next elections. According to Puigdemont, only an alliance between Podemos and the socialists will be positive in order to organize a referendum in Catalonia.
How is Catalonia preparing a potential independent State?
Actual Catalonian president, Puigdemont declared "It is our mission to prepare the legal and institutional framework for a future state of Catalonia by the end of my mandate – 2018. Our roadmap is to go from a pre-independent to a post-autonomous county".
Nevertheless, Catalonia doesn´t want to become an enemy of Spain – "they will remain our first partnes" declared both Puigdemont and Romeva.
Concerning the European Union, Catalonia wants to stay in the Union. Future Catalan citizens will remain Spanish but also member of the EU. "We are 7,5 million Europeans in Catalonia" declared Puigdemont. "But in order to join the EU, it is first necessary to be recognized as independent from Spain. I think the European Union will have the same dialogue with us as with the UK now.
Conclusion: everything depends on the referendum
To conclude, we only run in circle by analyzing every possibility about Catalonia leaving Spain or not. The first step is the referendum. The situation is now totally blocked, with on one side, a very quiet Spanish government when it comes to speak about Catalonia, on the other side, it is clear that Catalonia is seeking for international recognition. The more Madrid's government wait to dialog with Catalonia, the more Catalonian will feel frustrated and be for the independence.
Adrien Gonin, YoungDiplomats Special Envoy to Catalonia