Even though, democracy is thriving and taking root across Sub-Saharan Africa, several countries on the Continent, are still lurching under the heft of tyranny and brutality at the hands of self-perpetuating despots who cling on to power by hook or by crook, through the manipulation of their respective Constitutions or the organization of dubious, bogus elections.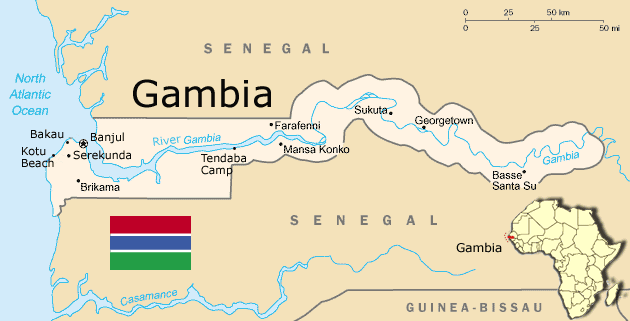 Africa's patience with autocratic rulers is running thinner and thinner by the day, reinforcing the notion that Africa is rising.
Gambia and Freedom
When the smallest mainland African nation of the Gambia gained its freedom from the claws of Jammeh's two-decade long tyranny, a wind of euphoria and a sense of optimism swept the Continent, particularly in countries that are lurching under one form of dictatorship or the other.  The citizens of those countries have looked up to the Gambia as a source of inspiration and hoped that one day they shall embrace democracy and rule of law and see the long night of autocracy come to an end.
However, last August, Gambia's Foreign Minister and leader of the United Democratic Party Ousainou Darboe raised eyebrows when his ministry issued a statement debunking a report carried by Reuters that the Gambia had called on Togo's Faure Gnassingbé to step down, amid unprecedented protests against his attempts to re-introduce the 1992 Constitution with the sole aim of prolonging the Gnassingbé dynasty's long overdue stay in power. His late father Gnassingbé Eyadéma, who came to power through a military coup, was the President of Togo from 1967 until his death in 2005.
A statement released by Gambia's Ministry of Foreign Affairs emphatically noted that "there is no reason warranting the government of the Gambia to take a position, since the Togolese people continue to make efforts to find a solution to the crisis."
Gnassingbé Dynasty
I was personally disillusioned with Gambia's decision to distance itself from Togolese people's struggle to enjoy the freedom the Gambians are relishing after they booted Jammeh out through ballot box.
The Gnassingbé dynasty has dominated Togo's political scene for five decades with the people keenly looking forward to regime change.
When Gambia's former despotic ruler Yahya Jammeh rejected the outcome of the elections in the Gambia last December, after he had initially conceded defeat, an unprecedented impasse ensued and the country was on a brink of turmoil, Gambians were appreciative of every voice in support of their cause, so others would expect the same.
The Gambia has a moral duty to lend support to the people of Togo to get rid of dictatorship. The Gambian government ought to scale down ties with a tyrant who has, along with Jammeh, thwarted ECOWAS's plan to introduce a two-term period in West Africa.
Africa's patience with autocratic rulers is running thinner and thinner by the day, reinforcing the notion that Africa is rising.
Continent's Dinosaurs
History was made last month when the people of Zimbabwe jubilated the ouster of Mugabe who ruled the Southern African nation of Zimbabwe for 37 years, which entails the bulk majority of Zimbabweans only knew Mugabe as their ruler.
The Continent's dinosaurs, including the longest serving African president, Teodoro Obiang Nguema Mbasogo of Equatorial Guinea (38 years), Paul Biya of Cameron (35 years), Denis Sassou Nguesso of Congo (33 years), Museveni of Uganda (31 years), Omar al-Bashir of Sudan (28 years) and Idriss Déby of Chad (27 years), should take note before they are red-carded and humiliated by their democracy yawning citizens.
Even though it is a small country, the Gambia, can lend its voice to democracy aspiring African nations to ensure that democracy and rule of law are brought to those countries.
By: Basidia Drammeh
Gambian researcher – Canada