Paris, 19 May 2022, Skaleet, an international fintech providing a next-generation Core Banking Platform (CBP), has partnered with Mobiblanc, an Agile Digital Services Entreprise (ESN), to offer turnkey solutions to financial institutions across Africa. The partnership will ensure that financial institutions have the capacities to launch new digital and innovative financial solutions that they can provide to their customers, whether businesses or individuals.
Mobiblanc, founded in 2010 and based in Morocco and Tunisia, is a leading player in North and West African markets entirely devoted to digital solutions. Its mission is to convert complexity and added value challenges, through the design of solutions that are best suited to the transformation needs of its customers. With a talented and dynamic team, Mobiblanc strives to deliver consulting and integration services in a professional manner for very demanding clients in Agile mode. With a talented and dynamic team; Mobiblanc is keen to deliver an efficient and effective consulting and integration service for a wide range of clients.
On the other hand, Skaleet enables retail banks and financial institutions to launch new banking products and services for their customers at a competitive price. Through its open, modular, and flexible Core banking Platform, Skaleet offers innovative and scalable banking solutions that are built end-to-end and tailored to each customer.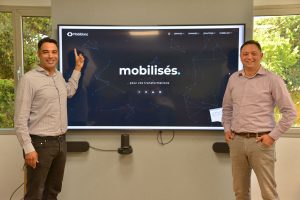 Photo: Co-founders Mohamed Benboubker (L) and Youssef El Alaoui (R)
Skaleet, is an international fintech that provides a scalable and flexible next-generation Core Banking Platform (CBP) with an advanced degree of customization. This platform enables financial institutions (retail banks, digital banks, payment and e-money institutions etc.) to better meet their customers' expectations with new and evolving digital financial offers. Skaleet's CBP has already been implemented in more than 34 financial institutions and Skaleet manages over 8 million bank accounts worldwide. Major customers include: Société Générale, eZyness (a subsidiary of La Banque Postale) and Trust Merchant Bank. Since its creation, the fintech has raised €28.5 million from Société Générale and Long Arc Capital, which confirms its ambition to grow internationally.
Today, it is essential for financial institutions to be able to innovate quickly and adapt to change
The digital marketplace is continually, and rapidly, developing and evolving and the partnership between Skaleet and Mobiblanc enables financial institutions to ensure clients stay at the forefront with innovative and cutting-edge technology. Providing the best service and advice to clients, Skaleet and Mobiblanc are able to respond quickly to the digital evolution of banking and financial services with innovative and agile solutions that are competitively priced.
Yves Eonnet, chairman and co-founder of Skaleet said, "Today, it is essential for financial institutions to be able to innovate quickly and adapt to change. The ecosystem we have built relies on expert partners who are aware of this challenge and can find solutions. We quickly saw a cultural, technological and business fit between our two organizations and are delighted to have partnered with Mobiblanc. The partnership will enable us to further expand our offering and add value to our customers across Africa."
Youssef El Alaoui, co-founder of Mobiblanc, added, "This partnership confirms our strategic orientation to support the digital transformation of the financial sector. We share the ambition with Skaleet to offer integration of innovative solutions with cutting-edge, technological expertise in order to bring added value to our partners and respond to the new business requirement of the sector."
Both Skaleet and Mobiblanc are committed to continue innovating and creating new modules and functionalities to reshape the banking and financial ecosystem in favour of a formal, inclusive and sustainable development of the African continent.