Venezuela is currently submerged in one of the biggest economic crisis ever seen. With a projected hyperinflation of 1.000.000% this year alone, there is no food or drugs and not much available gas. What is worse, even if the country was not out of essential and basic goods, the currency is so devaluated, that the Venezuelans would not be able to afford it with its minimum wage, currently 29 US dollars after 4 increases this year.
According to the United Nations, since the crisis started, more than 2'300.000 Venezuelans have fled their country in search of a better life, emigrating to countries like Colombia (550,000), United States (290,000), Spain (208,000), Ecuador (288,000), Chile (119,000), Peru (100,000), Brazil (34,000), Argentina (31,0000), Dominican Republic (28,000), etc.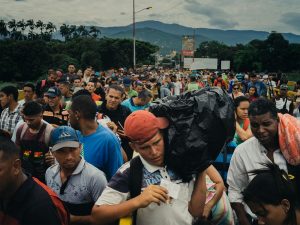 Most Venezuelans are going to Colombia because the government doesn't require a passport. They are using this border in order to go to other countries like Ecuador or Peru. Entailing a very risky walk of one or two weeks on the highway, this journey is mostly made by foot. As a consequence, these countries and others, like Chile, are now requiring a passport to enter the country, document which is impossible to acquire for most Venezuelans, creating an invisible barrier. Meanwhile, Panama closed its Colombian border since 2016 to stop the flow of migrants from Venezuela and another countries, like Cuba. These migrants final destination is the United States, Mexico or Panama itself. This Panamanian prohibition forces them to go through the very dangerous Darien jungle, a crossing that not everybody lives to tell.
As if the problems that the Venezuelans are already facing with the deplorable situation of its country were not enough, they are now experiencing xenophobia, exploitation, forced prostitution, etc. in various countries, which have exhausted their hospitality.
The Venezuelan government denies the migration and humanitarian crisis. It, however, offers free repatriation flights and has announced various measures to face the economic emergency, such as including a new currency, advising its population to buy gold, creating a crypto currency called the Petro, signing oil, mining and security agreements with China, forcing the employers to pay the minimal wage in dollars, etc. Nevertheless, the truth is that Maduro is just putting a Band-Aid on something that needs stitches.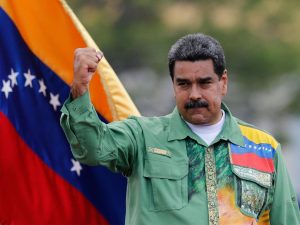 It's urgent for Latin America to work together towards resolving the Venezuelan crisis and helping the migrants with open borders, work permits, camps where they can stay, bath, eat and continue their journey, no discrimination campaigns, etc. Furthermore, the world cannot turn a blind eye to this problem; an involvement of the international community is also necessary to aid the migrants.