Survival is a state's foremost goal in the International system. In the Anarchic system, every state desires to dominate this world order. In this world where every state has interests and always fears of other states. This fear is nowadays compounded by the fact of China's future and its intents for global dominance.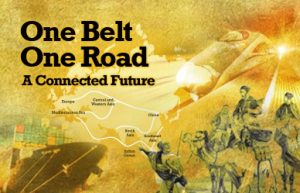 From the global economic hold, China is achieving its goal. The effort of China for economic dominance is in its better interest. The PRC's investment around the globe is a sign of its rise in future as hegemonic state creating polarity in the International system. The developmental projects in the African continent which are about 3,030 in number. An initiative of OBOR (one belt one road) also known as Belt and Road initiative. Its objective is to build trade routes between China and the countries in Central Asia, Europe, and Indo-Pacific littoral countries. It is a very ambitious project that involves around 65 countries of about $1trillion investment It will cause regional integration of different states. Moreover, the investment of about $60 billion under CPEC project in Pakistan carrying different developmental projects. These billions' dollar game of PRC here in the region and around the world will give China a chance for its economic progress as the important strategic locations are under its control. Besides this, the Gwadar port which is the main warm water seaport project will help China to access different major markets easily.
Throughout all these developmental projects, PRC has not yet faced any aggressive confrontation in its way. China has the largest standing Military and it can be deployed for saving interests. The sole power US history tells us that it had always reacted to contain one, replacing it. Cold war era is the major example of such US policies. Now if China is a threat to its hegemony they will respond automatically using its rival states.
Above all China's establishment of a military base in Djibouti, in the horn of Africa. Although Chinese authorities have said that their purpose is not to enter into the arms race, but this is only for Chinese peacekeeping support and humanitarian purpose in Africa. It is the first ever military presence of PLA in foreign territory. Similarly, the news of Chinese naval base in Gwadar for maritime security will send a strong message to its rivals. Japan, India, Vietnam will automatically join the US-led efforts against China. The recent US defense policy announcement shows that US authorities are now shifting their focus from the War on Terror to containing China and Russia.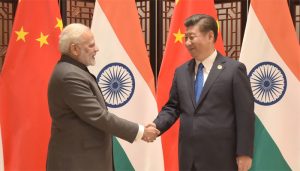 The arch-rival India which is also rising as a regional power has recently military standoff in Dokhlam Island has been perceived by India as it can be more confrontational in future it has already started arrangement to oppose China because of perceived threats. The current test of ICBM Agni-5 is a major development of Indian Defense capability. Likewise, the first-ever visit of Israeli premier to India and signing of deals majorly consist of defense agreements. The start of Indian negotiations with the Russian for S-400 missile defense system which will be the major Indian military capability. This India's struggle to counter China is alarming for its rival country.
The military presence of US in the region such as Afghanistan has planned to remain in the country for an indefinite period and sending of about more 4000 soldiers in the war-torn country, is an indirect message for China. The rising influence of India in Afghanistan and the perceived threats of tarnished terrorists' organizations such as the Taliban and ISKP near the border of its partner Pakistan will definitely affect its investments in the country. PLA had not yet intervened in ongoing conflicts but the threats revolving around its interests can spark the intervention to safeguard its better interests throughout the region. This can lead to US-China aggressive conflict leading South Asia to a new battlefield of the world Dominating power race.