Claude Coasguen, a prominent deputee in the French Parliament was interviewed by Young Diplomats, in the Academic College of Netanya.
The Acamedic College of Netanya is one of the leading institution in Israel, promoting the French-Israeli relations. It hosts every year several panels of French philosophers,Writers and Politicians.  To know more about the Academic College of Netanya please click here :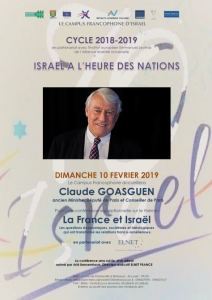 Interview : 
French Diplomacy has a strong pro-Arab Policy
Dear Mr. Coasguen, you have been elected 6 times in a row in Paris, why do people like you so much?
People like me because I'm on the field, and I am close to people. Politics need to bring you something on the personal plan, you need to be open minded and a bit ideologue. Politics is passionating, even if sometimes It's bitter and you have bad surprises.
During the last elections, I had to struggle against the candidate coming from the Macron's political wave.
You are highly engaged in International Relations, such as France-Israel, France-Vietnam… didn't you dream to do a career in diplomacy
No because diplomacy is very different from politics, and I have no affinities with French Diplomacy , especially regarding the Middle East. The Quai D'Orsay has a tragic anti-Israeli foreign policy since decades. Today International problems have become entangled with National problems as the world is more and more globalized.
I have been tasked by French Parliament to do a full scale report about the Middle East. I am supposed to fly in Eritrea and Iran in the coming weeks to explore those countries.
French diplomacy has a strong pro-Arab policy, which is archaic, but Arabs have become incredibly divided along the years. Israel should be a French Ally, French diplomacy is archaic.
One day Europe will want to ally with Israel because they will not have the choice
You are one of the strongest deputies in the French Parliament that is vigorously defending Israel, why?
I have a specific love for Mediterranean countries. I had a lot of Jewish Friends, I have witnessed the exceptional rise of Israel along the years. A country born in war, after the Holocaust, which will become after only a few decades a strong and robust country, that will help mankind with science like the Jewish people always did. One day Europe will want to ally with Israel because they will not have the choice. I consider that now Israel should help France, France need Israeli technology, Science, Intelligence and Security.  France should seek answers into Israeli approach to Terrorism and to economic success. This small country has a lot of energy.
Israel helps more France than France helps Israel.
What do you think about Foreign Policy of Emmanual Macron, the President of France
I don't know about it, and also Macron's don't know about it (Laugh..).  No basically, French diplomacy is dictated by the Quai d'Orsay more than Emmanuel Macron. As I said previously, the French Diplomacy is archaic and based on the fact that Arab Countries would be the best allies for France, which is a mistake.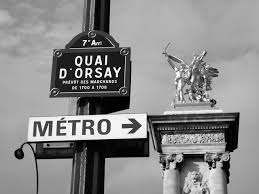 Usually, a French President will be inclined to be pro-Israel, but after the fatigue and the "usure", the Quai d'Orsday will likelover, over , over time and always come back to a pro-Arab policy instead of leaning toward Israel.
We are one of the only country in the world, that refuse to speak English and to open Internationally , alongside with Japan. As such, French we have a vision of International Affairs, very oriented toward the past. Our Foreign Policy almost didn't change since decades. Regarding Europe the role of France is difficult compared to the German Power, that has become a very strong economic power.
I am preparing to write a book on Mediterranean. American are wrong to leave this region , especially as Africa is becoming a major power and continent over the coming decades. And regarding Africa, we can clearly identify that the influence of France is being reduced every year in Africa at the benefits of China, Japan,Israel,Germany and other countries.
My main goal in Geopolitics is to show that there is not only Continental Europe that exists but also southern Europe that will be able to play a huge role in the coming decades. And Israel will be a major asset for Europe in the future.