Chadian Foreign Minister Cherif Mahamt Zen's exclusive interview with Young Diplomats
Young Diplomats' Africa Regional Director, Idriss Zackaria, conducted an exclusive interview last week with Chad's Minister of Foreign Affairs and International Cooperation, Hon. Cherif Mahamat Zen, in the Chadian capital city N'Djamena. During the interview; the minister demonstrated extraordinary knowledge of regional and international burning issues as will be seen from his answers. He was so friendly, spoke calmly, chose his words well and was very methodical in his responses.
We recently have seen that Chadian diplomacy is becoming more and more dynamic; I wonder what your foreign policy strategic vision is?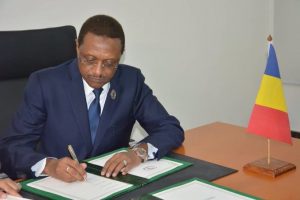 In my new role and vision as Minister of Foreign Affairs and International Cooperation of the Republic of Chad, one of my principal functions is to mobilize external resources for our economic development, my job is to promote and protect Chad's interests and image globally through innovative diplomacy, to contribute towards a just, peaceful and equitable world. To meet the challenges and opportunities in a rapidly changing world, our diplomats must be diverse, well-rounded, agile, and able to carry out multiple tasks – this requires that the right people have the right skills in the right place at the right time. Meanwhile, continued training and career development programs will better prepare our diplomats and advance their expertise.
Chad is a big African country that plays a highly significant role in the continent and should play bigger role in global affairs. We seek to use Chad's diplomatic power to build a lasting peace in the region, establishing a joint effort in order to tackling the root causes of conflict, such as environmental degradation, poverty and cultural misunderstandings around the globe. We must face current and future challenges by developing and expanding our diplomatic footprints and diversifying our trade and investment portfolio. We also plan to open an Embassy in New Delhi this year in order to open up new prospects for Win-Win cooperation with India.
We must rise to answer a new historic calling that lay new diplomatic foundations to secure a future of development for all people – like the great changes of the past – the new efforts we undertake today will not be completed tomorrow. However, transforming the Chadian diplomacy is the work of a generation – it is urgent work that cannot be deferred. The Ministry will further inculcate a sense of shared and collective responsibility for the execution of the Ministry's mandate.
Israel and Chad officially renewed diplomatic relations this month, during a visit by Israeli Prime Minister Benjamin Netanyahu to the Chadian capital. Can you tell me why the resumption comes now?
Relations between Chad and Israel had been severed since 1972, when Chad was one of the twenty two African nations to break off ties with Israel after the Israeli-Egyptian War of Attrition. Basically we need to consider the historical contexts and the distance when we talk about such specific relations, Israel invaded an African country which is Egypt and captured Sinai by the time. However, the Sinai Peninsula was returned to Egypt in stages beginning in 1979 as part of the Israel–Egypt Peace Treaty, and the Sinai Peninsula has not been regarded as occupied territory anymore again. Therefore, the diplomatic relations between both of the countries were cut in 1972 for specific historic reasons, but our special relations continued all the time. Hence, today, we believe that there is no need to keep such feeling of distance, we are a world in pieces, and we need to be a world at peace. I strongly believe that together, we can build peace and restore trust.
On the other hand, let me tell you that there are 46 other Africa nations that have formal and informal relations with Israel at the moment; Chad is not the only African country to have relations with Israel. We believe that the idea of peace still is, and still must be, dominant in human affairs.
What does Chad gain from formal diplomatic ties with Israel?
Israel can be important for Chad's security and prosperity, we are taking our cooperation forward to establish a sound and productive bilateral relationship, cooperation between our countries in the agricultural sector is crucial, fisheries, livestock and biotechnology, cyber security and high-technology. You know that Chad is a rising power in Africa with a military that is considered developed and efficient. We have also sent peacekeeping forces to other states nearby; hence, we are continuing to develop our bilateral defense cooperation with Israel to cover operational territorial surveillance and protection of territorial integrity.
One criticism we've heard from some Arab and Muslim nations that Chad is moving away from the Palestinian case, denouncing Chad's renewed diplomatic relations with Israel as a "stab in the back" against the Palestinian cause, how would you respond to this?
Let me make it clear that the resumption of diplomatic relations with Israel does not make us forget or even ignore the Palestinian issue. Chad is profoundly attached to the peace process and has shaped the Arab peace initiative, the Madrid principles and existing agreements.
Peace between Israel and the Palestinians should reflect the principles of the Security Council, the Arab League, the Madrid Principles, and bilateral agreements between the parties. We believe nonviolence is the only way to a true and lasting solution to conflict, as we also believe in establishing peace amongst all human beings.
Thank you very much for making this clarification, Mr. Minister. But allow me to go back to the recent development in Central Africa Republic. You are about to join the Inter-Central African peace talks that will take place tomorrow in Khartoum, the Sudanese capital. Could you enlighten our readers about your role in that peace talk?
I will absolutely participate in the inter-Central African talks in Khartoum tomorrow, which armed groups and the Central African government are scheduled to meet in the Sudanese capital from January 24 to 30 to discuss the issues of peace in order to truly initiate the disarmament of armed groups for an end of the crisis in the country, which has been sinking into violence for several decades. It is an essential step for building peace in Central Africa. Several personalities and representatives of Central African armed groups are invited by the African Union to the talks.
It is a great initiative that we should be part of it, because we have committed to support peace talks in Central Africa by any mean; we must and will strengthen our position in the peace talks, we are keen to end the tragedy that our Central African brothers and sisters have been facing for decades
Chad faced repeated criticism of its conduct in Central African Republic (CAR), that it has played an influential and ambiguous role in the country, how would you respond to such claim?
Whatever claims people were making were false, Chad is crucial to United Nations peacekeeping efforts in CAR and elsewhere, like in Mali, where our soldiers face threats from insurgents affiliated with Al Qaeda. Despite the sacrifices we have made in the continent, Chad and Chadians have been targeted in a gratuitous and malicious campaign that blamed them for all the suffering.
Such claims have forced us to withdraw our entire contingent from the Central African Republic's peacekeeping mission, in the wake of the accusations, however, and unfortunately our withdrawal didn't solve the Central African crisis, it also created new security and political problems that have been affecting us for years, we don't want problems in the neighboring countries and on our borders at all.
Chad has clearly been the most influential neighbor in terms of CAR's political and economic stability. We never seek military intervention in other countries, but we will do our best to contribute to the neighboring countries' stability and economic integration; including Central Africa.
I want to go back just very briefly, some detractors online have been making all kinds of claims about French President Emmanuel Macron's recent visit to Chad, claims said that he came to discuss the crisis in CAR with President Idriss Déby, amid widespread concerns about increasing Russian influence in the country. What is going on with these allegations?
French President Emmanuel Macron visited Chad because he had a working session with his Chadian counterpart, President Idriss Déby, which extended to the two delegations on economic cooperation between the two countries and the fight against terrorism in the Sahel region, he didn't visit Chad amid Russian intervention in Central Africa as it was claimed.
There is no doubt that the principle of non-intervention in the internal affairs of States remains a well-established part and the center of our foreign policy strategy. The prohibition of intervention is a corollary of every state's right to sovereignty, territorial integrity and political independence. Therefore, Central Africa is an independent sovereign state, and President Faustin-Archange Touadéra came to power through democratic elections, hence, any regime change should be by the Central African people, Chad has nothing to do with that. And let me tell you that any instability in CAR would directly affect us badly, that's why any signs of political instability in CAR can be very worrying to us. Allow me also to tell you that Southern Chad is host to hundreds of thousands of refugees fleeing the fighting in neighboring CAR. We are managing a huge humanitarian crisis in our territory as a result of conflicts in the neighboring countries. Approximately 111,500 people are internally displaced along with more than 200,000 refugees from Sudan as well as 100.000 refugees and more than 150.000 returnees of Chadian origin from CAR; we host millions of refugees in this country, we have enough on our plate. The current situation is awkward, and can't stand any additional regional crisis.
By Idriss Zackaria