Mosul city was taken over by ISIS in 2014 and since then it is considered as its most significant strategic win. Before being declared as a global caliphate by Abu-Bakr al-Baghdadi and the ISIL militants' capture, Mosul was a major city in Iraq with the population nearly 2 million people. Historically speaking, the city has always been the center of conflicts related to the Middle East, especially of those between different ethnic groups and nations from crusaders to the coming of ISIS.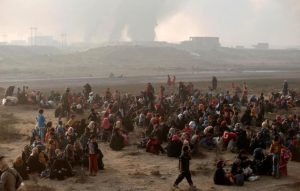 Mosul operation or the Battle of Mosul began in October 2016 and is led by the Iraqi Government Forces with Shia militias and the military forces of the Autonomous region of Iraqi Kurdistan known as Peshmerga, and supported by the Global Coalition to Counter ISIS under the US control.
Since the beginning of the operation in October, there are around 255,000 people who have relocated from Mosul, and this number is constantly on the rise as long as military interventions continue, defeating ISIS in Mosul and Hawija. During the battle of Mosul, ISIS is using civilians, children included, as human shields to keep control of their areas. This strategy is importantly slowing down the Operation of Mosul and lets the ISIS to create controversy about the Iraqi forces and coalition campaign.
Despite continuity of the Battle of Mosul, according to Iraqi leaders, there is no solution for the reconciliation and peace establishment, so the future of the city is quite uncertain. Also, the threat for the peace after liberation is the sectarian position of Mosul's ethnic groups, such as Shia Popular Mobilization Forces (Hashd al-Shaabi), Sunni militias known as Hashd al-Watani and Al-Sahwa, which is a force of Sunni tribes from Anbar Province, Yazidian and Christian Militias, beside the competition among their groups' interests. As long as there is a conflict of interests between ethnic groups, therefore, the peace establishment will not be an easy mission.
Nevertheless, the Battle of Mosul is going to progress, while the Iraqi forces and international coalition put their forces together with the purpose to defeat the ISIS. After liberating the eastern Mosul from Islamic State in January 2017, Iraq's prime minister announced that the battle is continuing for the western part of the city, attached to Syria, and predicted soon ending of the battle for Mosul's liberation.  It is obvious, that fighting ISIS militarily is an easier mission than fighting the ideology of ISIS in Mosul and Iraq. Lastly, transitional justice and security guarantee for the ethnic groups in Mosul are highly important to decrease the impact of post conflict violence with concerning Mosul's population, there is a perspective of coming back of displaced people to their city.