Aidan Borkan is a young and promising political analyst. He is specialized in the changing political landscapes of the US and the Middle East. He is currently a student from a top American University. He is currently serving as a political Analyst for a prestigious American Candidate to The White House.
As the new presidential election cycle comes into spin, the same forces behind foreign policy agendas – the American elite – are revving their engines and preparing to spend enormous sums to bring their favorite candidates to power. A small country of 8.4 million, the State of Israel has emerged as a political asset among the central issues for candidates to address to swing donors and key voting blocs.
In the first Republican debate, Israel is second only to Iran in numbers for countries mentioned. That is no coincidence. The Democratic voter base is becoming alienated by an Israeli government led by a right-wing conservative coalition of hawkish ministers, with 47% describing the Jewish State as "Racist" and only 48% who believe Israel sincerely desires peace according to a poll by political consultant Frank Luntz.
These figures appear unnoticed by the Democratic mega-donors' favorite, who has taken a hardline stance toward a commitment to the future and security of the state. In a personally addressed letter to Haim Saban, Hillary Clinton allayed her opposition to BDS initiatives and will play the 'Israel's security first' card against a house that is deeply divided.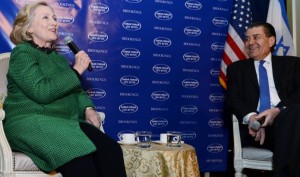 There are two major Democratic candidates that have openly expressed their criticism of Israel's policies – Martin O'Malley and Bernie Sanders – though their chances of electoral success depend on a grassroots level support, while Clinton courts billionaires to the likes of Haim Saban and George Soros. Senator Sander's opposition to Israel's reaction in Operation Protective Edge resonates with progressive voters and is directly in-line with his refusal to bow to the Billionaire class and its interests. As the divisions deepen between pro and anti-Israel constituencies, no candidate will make it to the White House before addressing how they will change the relationship with Jerusalem. Israel's very image as America's top ally in the region is suffering numerous blows, from the backlash of a failed attempt by of Prime Minister Netanyahu to sway elected officials against their president on the Iranian Nuclear Accord, and the brash and confrontational stance the leading coalition has taken against advancing the prospects for peace – namely the expansionof settlements at a time of dimming hope for renewed talks with a weakened Palestinian Authority. Dissent is growing, even within the Pro-Israel community.
Self-identified Jews and Zionists are expressing their discomfort with an administration that does not represent their values in major forums. The once solid base which held the US-Israel relationship as sacrosanct is beginning to fracture, as major donor-backed candidates tow the same line as decadesbefore and struggle with outreach to young and progressive voters. Republican candidates – with the sole exception of Rand Paul – are strengthening their hardline positions on Israel's security in a shallow attempt to court Evangelist and conservative Jewish votes. Open sympathy towards the settlement movement and a break from traditional bipartisan opposition to a cause that is near universally seen as undemocratic, can be seen in the form of campaign stops in Shiloh by Mike Huckabee and the flow of US dollars through shadowy conservative organizations. The very idea of referring to the West Bank and Gaza as occupied territories, as did Chris Christie, has come under fire by Sheldon Adelson, whose view of a greater Israel which encompases all post-1967 geography without 4.4 million of its demography, will dictate the Republican stance.
The right-wing GOP has grown its influence in the major Israel lobby, AIPAC, and made inroads through the Orthodox-Jewish establishment, but further distanced itself from the majority of US Jewry and as the events of this summer prove – is incapable of driving a wedge between a solidly Democratic majority of Jewish voters. To the dismay of Adelson, the love of Israel as a Jewish and Democratic state is greater in America than is the desire for ethnic supremacy – one of the principals which the foundation of Israel was to fight against. The state will survive this election cycle, but the Netanyahu government ought to open its eyes towards the sway of the nation away from a traditional alliance, from the college campus and eventually to capitol hill.