A key goal of this week's visit to Israel by French Economy Minister Emmanuel Macron was to lure Jewish investors and high-tech talent back to France, the Wall Street Journal reported on Tuesday.
Indeed, during his visit in Israel, the French economy minister tried to convince young graduates and entrepreneurs who left France for Israel to return to France. It is exactly this kind of entrepreneurs that the French economy desperately needs, analyzed the Wall Street Journal.
It is a cruel dilemma for the French government. In recent years, Israel "has become the refuge for the kind of talent that the second largest economy in the euro zone needs: Young Entrepreneurs specialized in the  high-tech sectors," suggests The Wall Street Journal.  This Exile is due not only to Israel prowess to attract young entrepreneurs but also  because anti-Semitism is gaining ground in France. Not to mention "chronic rigidity of the French education system and framework," the newspaper said.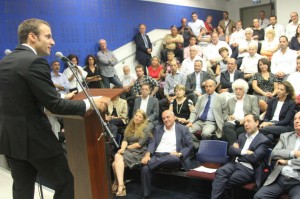 A France without Jews would be a disaster
The French economy minister was visiting Israel from September 6 to 8, where he met with students and entrepreneurs, including the Israel Institute of Technology. "A large part of his mission was to convince Jewish investors and talents to return to France", notes the Wall Street Journal. Last year, 6,961 French Jews left for Israel – two times more than in 2013 – and 36% of these emigrants had a diploma of higher education. These significant departures "deprive [France's] future business leaders and investors, while the economy is struggling with low growth and double-digit unemployment," analyzes the American newspaper.
Culture of failure
Israel has become a model for governments around the world, with its policy of aggressive subsidies for young companies. And even if Paris is well placed in the race for talent, with effective measures for start-ups, "young people who join Israel go there for something that France can not offer them the spirit tranquilllité , "the Wall Street Journal.
The daily quoted one hand the attacks against Jews occurred recently (notably the killing of Hyper Kosher in Paris), but also the "culture of failure" in France: "In France, young entrepreneurs fear the stigma associated with failure. "
In Israel, employers and investors view early failure as a valuable learning experience, émigrés say, while it can be viewed as career-ending in France.
For the Jews of France, everything changed
Emmanuel Macron tried to reassure safety for Jews in France, and mentioned government programs to support young companies that have failed. His speech could have paid off, says the Wall Street Journal, citing a young French arrived in Israel a year ago: "What he said is strong, because he understands what is happening. I am now Israel, but I will always be French. "