Idriss Zackaria is the Director of Young Diplomats Africa, the part of Young Diplomats project. Young Diplomats is the first non- governmental diplomatic association with a mission of shaping, sharpening and inspiring a new generation of enlightened international leaders. Idriss Zackaria is one of them. As Young Diplomats' Africa Regional Director, he sees himself as a bridge and trust builder. We talked with him about his start at Young Diplomats, leadership, challenges, international relations and other topics…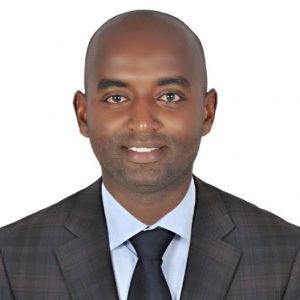 Idriss Zackaria
YD: How was your start at Young Diplomats? How did you contribute to the evolution and the success of the association?
We simply start our project by writing and publishing articles on our website… then my colleague David Allouche thought that I was the right person to represent YD in Africa and take care of our activities in the continent. Since then; we started to define and set up our team globally. —We really needed to think about what skills we need to deliver our project successfully. Building the team has taken from us 3 years to set things on the ground; because we always tried to avoid over-complicating things. We knew that when we get started on the project initiation phase, things can feel a bit vague and team members can get confused about what the project actually is. Hence, we always try to make sure our team in Africa knows what they are delivering and are invested in it. We always involve the team in the setting of the brief, definition of deliverables and approach to any phases.
Young Diplomats has clear different phases from its inception, for example a discovery phase separate from the development, and we treat each phase like a mini-project rather than doing a bigger upfront piece. This strategy has provided key starting points for each phase, rather than trying to make a lot of assumptions at the beginning.
About Committee…
We lately have appointed a committee to examine and shape our operations around the world. The Committee is a part of the organization that makes operational decisions and guidelines. Members of the Committee are in charge of elaborating and following up the guidelines of our organization. They accompany the different directors of Young Diplomats and manage the website as well as the global and cross-border projects. The appointment and removing of regional and country directors is done by this committee.  Team members of the committee are David Allouche, Noam Hakoune and me.
YD: How do you see YD Africa under your leadership?
Currently, our project in Africa has involved a number of young leaders in dozens of African countries, and we are seeking to connect our disparate projects across the continent and reach more young leaders.
Africa's youth are taking the stage to make their voices heard about the continent. Therefore, I have a global mandate to advocate for the implementation of the African Youth Charter, the Demographic Dividend Roadmap and Agenda 2063. As Young Diplomats' Africa Regional Director; I see my role as a bridge builder, building trust by closing the information gap between the international youth and the African youth, which can be achieved with a strong and bold communication strategy via our diversified activities. I'm here to support all the young Initiative on Foreign Affairs and International Relations (IFAIR). We can achieve these through partnership, support, participation and coordination with young people themselves. This is a "working together flash".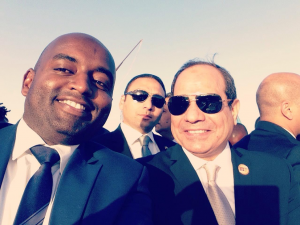 YD: How would you describe yourself as a leader?
I actually don't see myself as a leader – perhaps I am a Pioneer. Even though I tend to be the groundbreaker in most situations, though I can think of plenty of times when it was better for my organization for me to follow along; in order for me to drive execution and get results not only from the team but from the numbers as well. I am definitely a motivator and encourage my team to grow.
YD: What was the greatest challenge you faced at YD Africa?
Firstly, one of the most common challenges that any project manager has to face usually regard corporate, internal issues. However, it's not the same story for us in Young Diplomats. Some local authorities in some developing countries were either unable or unwilling to allow our friends to carry our operations there – and that was my biggest challenge, because I had no idea why they were doing so. However, things have changed lately; as we we've been able to build greater trust with a few of these local authorities. Hence, I believe local and regional authorities can play a role in enabling young people to have their voice heard in decision-making processes by contributing to the elimination of sources of disillusionment and offering young people possibilities for real participation.
Secondly, the larger our network becomes, the more challenging it is to pull in the right information. With multiple offices spending money in more than sixty countries in various ways, you may find that the numbers in your local budget don't reflect how money will actually be spent. There are plenty of platforms and programs that we have designed for Africa, but finding the right one in a sea of choices can be tough with such financial crisis. For this reason, we have developed our budgeting strategy for 2020 and our recommended budget methodologies and best practice solutions for the next 5 years to come.
YD: Where would you like to continue your career?
I have always set my priorities in life. Today I can say that those priorities have helped me achieve various things. Those decisions have rewarded me with the opportunity to sit here in a reputed youth organization. It is almost certain that I have set up priorities for the upcoming years. I look forward to working with a promising attitude. I want to attain new heights in my career whilst taking forward the goal of this organization. To sum it up, I'd love a position where I can use my skills to make an impact that I can see with my own eyes in Africa and around the globe. Of course, the position is only part of the equation. I'm definitely looking for a position where I can grow—professional development is something that's really important to me since I hope to take on managerial responsibilities in global organizations that have been contributing to global peace such as the African Union and UN. I'm always very motivated by being able to see the impact of my work on other people.
YD: What do you think are the greatest challenges young diplomats face today?
Young diplomats are currently experiencing fundamental changes at an unprecedented rate, which affect the very character of diplomacy as we know it. These changes also affect aspects of domestic and international politics that were once of no great concern to diplomacy. I think we will strive to provide a varied range of perspectives and opinions that face some of the major challenges facing the international community. The public is more sen­sitive to foreign policy issues and seeks to influence diplomacy through social media and other platforms. With the rise of nationalist sentiment in politics around the developed world; Ministries of Foreign Affairs, diplomats and governments in general should therefore be proactive in dialogue and global forums.
YD: How would you describe the present situation in international relations?
With the new implications for national priorities, regional arrangements, and the emerging global order – in the context of such transitions; the world is going to become more chaotic if young leaders don't act now.
Ivana Tucak