The possibility of full-scale military conflict between Israel and Iran is the highly unpredictable scenario, but medium to large-scale deadly skirmishes between Iranian Shia proxies like Basij Militias and Quds Forces and Israeli Defense Forces are the high possibility.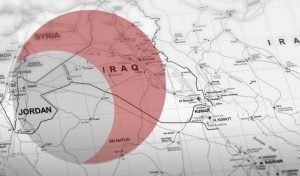 Reason- as per the majority of the Middle East analysts; control of Oil and Gas rich Syria is biggest one, followed by insatiable Iranian ambition to create Shiite Crescent connecting Middle East's Shia population under the Iranian umbrella. USA and Russia want to carve out a path for secure oil and gas pipelines through Syria for commercial purpose. While Israel wants to keep Iran at safe distance from it; Iran wants to push its corridor as much as close to Israel to pump war logistics to Hamas and Hezbollah to keep Jewish State bleeding!
The Syrian uprising started in March 2011 against Ba'athist regime of Syrian President Bashar Al Assad. Initially, Iran's supreme leader Al Khamenei extended moral support to Syrian Regime which gradually became more concrete and logistics including arms and Shia militia fighters started pouring in in Syria to take on US-backed Syrian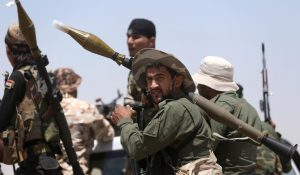 Democratic Forces (SDF) and Kurdish fighters opposing Assad regime.
Major Iran backed force in Syria is Basij Militia; voluntary paramilitary militia backed by elite Special Forces units of Quds Force under IRGC commanded by Major General Qasim Soleimani. 
The Quds Force and Basij militia have played a vital role in defending Assad Regime from the onslaught of well-equipped and professionally trained US-backed Syrian Democratic Forces.
Current flashpoint in Syria is a consolidation of Iranian Quds Forces trained by Islamic Revolutionary Guard's Corps which as per Israeli claims, are meant for attacking Israel. The last straw on camel's back was shooting down of Israeli jet on February 9, 2018. The said jet was returning to its base after bombing raids on Iranian targets.
The incidence alarmed Israel of possible fortification of Iranian positions in Syria and it strategic fallouts on Israeli security.
Growing clout and ever-increasing military muscle of Iran in Syria is driving force behind thriving Saudi- Israel friendship, which was daydreaming just a few months ago.
Saudi Arabia is repeatedly accusing Iran of supplying arms and ammunitions including ballistic missiles to Houthi rebels in Yemen, which are fighting government forces. Saudi led military coalition is battling Houthi rebels which has killed at least half a million people in Yemen so far.
Saudi and Iran are fighting for hegemony in the Islamic world. The mythical Shia Crescent, connecting Shia majority areas of Middle East from Yemen- Iran- Iraq-Syria- Lebanon is the biggest worry for Saudi Arabia.
Lebanon Elections where Shiite Militia Hizbullah emerged as a potent political force pushing aside Saudi backed PM Saad Hariri has added woes to Israel.
---
What's The Next?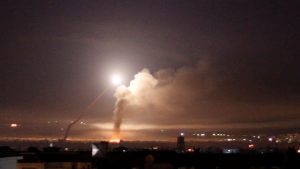 As Israel has already vowed to target Iranian military positions within Syria, more air raids and retaliatory missile attacks on Israeli targets would be there in near future. But the full-fledged war between both countries seems impossible at this juncture. Israel will try its best to wipe out Iranian military presence in Syria, in the form of Quds Forces and its air defence infrastructure but won't extend the campaign to Iranian mainland.
 On the other hand, as it was visible Quds Forces will continue to target Israeli positions in the disputed territory like Golan Heights while refraining from attacking the undisputed State of Israel.
Nuclear Deal between Iran and US-led world powers already declared by Trump null and void, so Iran has announced that it will renegotiate it with other stakeholders sans America. But Americans won't let it happen to keep heat maintained on Iran.
 There are very blink chances that US-Israel would hit Iranian nuclear sites, instead, US would go for Iran's jugular by imposing more stringent oil and gas trade embargoes and technology transfers.
Amid Clash of Titans, the fate of Syrian President Bashar Al Assad hangs in balance. Since popular Syrian uprising, Iran's supreme leader Khamenei was first to openly back Assad regime. Later Iran started pouring in war logistics and Shia militia fighters to support Assad.
But Israel started viewing growing influence of Iran within Syria as a major threat to its security. So just 3 days ago Yuval Steinitz, Israel's security cabinet minister boldly threatened Syrian President Assad of assassination if he continues to allow Iranians in Syria. Yuval demanded Assad to oust Iranian combatants from his country.
Though the conflict scenario changing rapidly it seems it won't spread out of Syria. Already war-battered Syrian people would be at receiving end and they will continue to pay for the sins which they never committed!
Written by Vinay Joshi a rising star in geopolitics and in YoungDiplomats organization !