Cross-posted article by Ailana Navarez; Pulsamérica. 
The Darien Gap is more than a pause in the Inter-American Highway. It divides North and South America's problems. Panama's military-styled border patrol SENAFRONT helps ensure that.
SENAFRONT also controls a majority of the jungled Darien's tangible and intangible commodities. They assist coordinating everything from humanitarian aid, education, immigration and security. Their status is ever present.
Most Darien population support the heavily-armed SENAFRONT for what they bring to the isolated province. Those who do not support them keep quiet for a reason.
A part from distant official voices in the relative safety of Panama City, the baton's keeper is clear.
In 2015, national newspaper La Prensa called the SENAFRONT the "other government" of the Darien.
Embodying a Quagmire to Master a Quagmire
Founded in 2008, the SENAFRONT's first commander was Commisoned Officer Frank Abrego – the highest rank offered by modern Panamanian police.
Highly trained and resilient in physical appearance as much as tactical repertoire, Abrego has been called the "Zsar" of the Darien.
National and international media would speculate Abrego's notable authority in the region during his time in power. The BBC once pointed out the influence over commodities to representing the area in very effective ways at times beyond local politicians' reach.
Some outlets represented him with a sense of fear, other admiration, many realistically both. La Prensa again went as far as to compare him to General Omar Torrijos. Torrijos was a former Panamanian strongman loved by some for his strength to standing up to old blood and US rule, and dissuaded by others for committing a coup detat against the oligarch, partially in thanks to power accumulated in the rural areas beyond the capitol.
But Abrego is no Torrijos.
Abrego as Senafront's head largely kept to his own territory, sporadically getting called to the capitol or abroad for diplomatic functions. He is not publicly ideological, flashy beyond being occasionally photographed with a submachine gun strapped across his torso, nor extraordinarily charismatic.
And yet those elements aside, the Darien is of indubitable geo-strategic value to hemispheric security in narco-trafficking, contraband, illegal logging, agricultural disease, Colombian guerilla and paramilitary activity, and illegal immigration realms. The day the capitol government would need to bargain with Abrego regarding Darien policies would be a day that defined who was actually in charge of the Gap.
And both parties demonstrating pragmatism, neither seemed to want to go that far, at least officially.
Either path Abrego may have elected, the present tells a different story.
Today: The Zsar off his Throne
Abrego suddenly retired after nearly 8-years heading SENAFRONT and decades in the military-esque police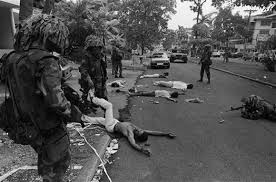 service. In exchange, he was offered a wide selection of capital advisory positions, including in the Foreign Ministry, Ministry of Defense and Ministry of Economics and Finances.
One year later, Abrego has been reported joining the Ministry of Economics and Finances as an "advisor"valued for his background in security strategy and "international contacts".
Some of the latest – albeit relatively scarce – news involves Abrego allegedly coordinating SENAFRONT parades in the capital – "police officers" trained in jungle warfare marching the high-density urban setting of a military-banned country in camo and heavy semi-automatics.
Some have criticized the ethics of this demonstration of power, questioning appropriateness and highlighting in congruency. Others write it off as demonstrating a taste of PTY's defense capabilities in the public eye, commonplace in Latin America.
Infinitus Hypothesi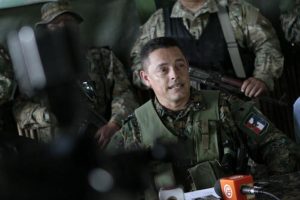 Either way, it is curious how a man once on a high rising trajectory of de-facto power and press went from Zsar status to nearly no public word whatsoever.
Were city officials concerned about such ability of accumulation as a reason to be intimidated and thus cut off that possibility at the root? Or was a seasoned military – police official who had served his time simply resigned from playing Rambo and honored with air conditioned comforts of a behind-the-scenes city desk?
Due to lack of information and foreseeable clarification, observers are left to such hypothesis and the reminder of 21st century power dynamics.
In a geo-politicially strategic region where opposition -armed or political – were at times dealt with in more extreme methodologies, modernity sets a more intricate diplomatic stage. Today, old elements of psychology, the shadow of physical force and  networked negotiation marble into a game of information control and the hints that lack of certain information offers, as well.
Even Zsars play.