Almost four months after he "inadvertently" crossed the Line of Control (LoC), the Indian soldier Sepoy Chandu Babulal Chavan, 22, was handed over by the Pakistani authorities to the Border Security Force (BSF) at the Wagah border crossing on Saturday afternoon. Islamabad said he was being released on "humanitarian grounds", as a "gesture of goodwill" and to "maintain peace and tranquility" along the LoC.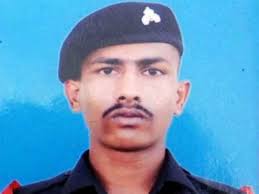 The Pakistan Military's media wing, ISPR, in a statement stated that Sepoy Chandu, stationed in Kashmir had "deserted his post at the LOC due to his grievances of maltreatment against his commanders".
"As a gesture of goodwill and in continuation of our efforts to maintain peace and tranquility along the LOC and WB (International Border), Sepoy Chandu has been convinced to return to his own country," reads the statement."
As confusion ensued after the soldier's 'desertion' on Sep 29, 2016, Pakistan's Ambassador to the United Nations Dr Maleeha Lodhi, while talking to Al Jazeera, had said that Pakistan Army had "captured an Indian soldier who was trying to enter" into Pakistani territory.
Lodhi, however, had denied that there had been any surgical strike inside the territory of Pakistan on the same day, as claimed by the Indian forces.
Pakistan Army had also reported killing several Indian soldiers on the same day during a firing incident across the LoC.
An Indian army official based in New Delhi had said, "It is confirmed one soldier from 37 Rashtriya Rifles with weapons has inadvertently crossed over to the Pakistan side of the Line of Control".
Avoiding connecting the capture to the firing incident along the LoC on the same day, the Indian official had said such incidents of people including civilians crossing the frontier by mistake have happened in the past from both sides.
Recently a survey in Pakistan showed that the majority of the Pakistanis (68%) wanted their governments to engage peace talks with India and lower the tensions in the region between the two nations. Despite terrorist violence continuing to prevent India and Pakistan from coming together to settle the issues that have turned them into each other's enemies, a huge peace constituency exists on both sides of the political divide that thinks differently.