In a few days, the battle of Idlib will erupt. This one will remain in history as one of the numerous battles between the Syrian government along with its allies and rebel groups. Here's a map of the city :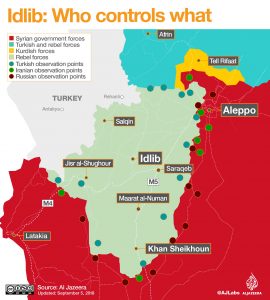 Here's everything you need to know in 5 bullet points : 
Idlib is the last rebel stronghold. If the Syrian government takes over this city, the Syrian war would end. 
Idlib is home to some three million people, about half of them displaced by fighting in other parts of the country, according to the UN. This demographic pressure can lead to a massive humanitarian disaster. 
Turkey, alongside with more or less moderate rebel groups, does its best to avoid this conflict and to ensure the Astana process. 
Russia and Iran are fighting with the regime in order to destroy what they deem as " terrorist groups ". Indeed Idlib counts tens of thousands rebels affiliated 
The U.S will not act except if chemical weapons are used during the assault.