Qatar (a small Arab country) is located in western Asia. Qatar is a member of the Gulf Cooperation Council (GCC), with also The United Arab Emirates, Bahrain, Saudi Arabia, Oman and Kuwait. Qatar's political economy has played an important role in politics and in economy of this region. All of these changes in politics and economics has lead them to have an independent foreign policy different from the GCC members.
What led to the "QatarGate"?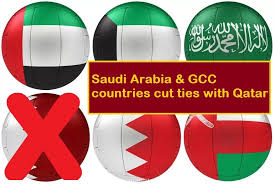 Some observers has claim that it is related Al-Jazeera's attack on GCC members particularly Al-Jazeera's coverage on UAE about the relations of AE's ambassador to the U.S.
Yousef Al-Otaiba with a pro-Israeli group, also remarks on the official Qatar News Agency attributed to the Emir of Qatar, Sheikh Tamim bin Hamad Al Thani, that expressed support for Iran, Hamas, Hezbollah, Qatar has reported that this remarks were false and did not know their origin because Qatar News Agency has hacked. As usual Russia has been accused for hacking, however The Guardian diplomatic editor Patrick Wintour reported that "It is believed that the Russian government was not involved in the hacks; instead, freelance hackers were paid to undertake the work on behalf of some other state or individual".
 Some other observers are accusing the Qatari extremists of the region since their allegations and financial connections with terrorist groups such as Al-nusra in Syria, Hamas in Gaza, and Brotherhood in Egypt. Although Qatar is on denies side, they supported the US against the ISIS in Syria and Iraq.
In addition, GCC has accuses the Qatar to have good relations with Shia-Iran and being under Iran region influences, since Saudi seen Iran their to control their stability and security of this region. Qatar has share the South Pars (northern dome field) the largest natural gas field with Iran.
Qatar at the time "the Arab spring" was supporting this movement particularly because of the Brotherhood organization governed by the Egyptian president Mohamed Morsi.
The disagreement between the Qatar and Saudi has a longer history, particularly after the bloodless palace coup emir Sheikh Hamad bin Khalifa Al-Thani against his own father in 1995 a Saudi ally, current Emir of Qatar Sheikh Tamim bin Hamad Al Thani as his father has stood against Saudi hegemony in Qatar and the region.
Consequently, actors in the region and world has divided for showing their diplomatic reactions, since Russia, and Europeans have called for negotiation and dialogue, the US president, Egypt and King of Jordan has sided with King Salman, and state officials such as German foreign minister Gabriel has criticized Trump for the current disputes but later Washington announced support for mediation, on the other side Turkey, and Iran have backed Qatar in disputes with Other Arab states. States like India see this dispute as an internal matter.
The views and opinions expressed in some articles are those of the author and do not necessarily reflect the official position or editorial policy of Young Diplomats magazine.