Hauna Trimble is a young and promising political analyst. She is specialized in the changing political landscapes in the US and in the Middle East. She recently graduated from a prestigious university in the Middle East.
By electing an Afro-American president in 2009, Americans assumed they were taking large leaps to close the gaps between blacks and whites and finally leaving behind the sins of the past. Yet eight years later in the year 2015, America couldn't be more divided than it was in the 1960's. Just shy of a year away from the next U.S. presidential elections and already, the debates have been full of heat, controversy, and divisions. Racial tensions between whites and blacks on issues surrounding welfare, equal treatment and police brutality have never been higher.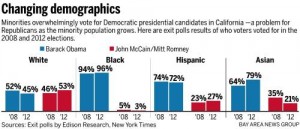 The need for immigration reform and what to do about the millions of "undocumented" immigrants has become a crisis, with no consensus on how to deal with it. America is a truly divided nation, which has played a large role in the presidential debates we see today between the various Democrat and Republican candidates.
The Democrats have always benefited from attracting the minority and young vote, thanks to the benefits they promise minorities and the liberal perspectives they claim to represent among the youth. Meanwhile, the Republican Party has struggled to break out of the long standing impression they have as representing only the white, Christian, "greedy" Americans who are the supposed root of all minority, young, and female cleavages in the country. This has been pivotal in Obama's election and reelection, and unless the Republican Party makes strategic moves to show something different, it will spell another inevitable defeat.
So, does the Republican Party have a chance to win over ethnic minorities? Yes, but it will have to make some radical changes in its presentation and message. Mitt Romney from last election may have been perfectly qualified to be president. But let's face it, he didn't stand a chance at winning. In the minds of minorities, Romney represented everything wrong with the Republican Party, and only confirmed the already preconceived notion that the party solely represents white Christian men.
It seems Republicans have a problem accepting the reality that these types of candidates really stand no chance in the face of rapidly changing demographics across the nation. The 2016 elections need to look vastly different. First of all, as ridiculous as it may sound, the Republican Party needs a minority to represent them, although this is just one out of many necessary things a candidate must possess. This point right here proves just how far America is from actually being a nation of equals, where minorities as the perceived victims can actually stand a better chance at getting a scholarship, keeping a job, or winning U.S. presidency, but the truth isn't always pretty. Another thing that needs to happen is for the party to speak to the entire country, and not just Republicans. 
To expand on this point, the Republican Party needs to evolve to become more inclusive of the reality that America is in currently. This doesn't mean changing republican values, policies, or goals, it simply means presenting itself in a way that shows its inclusion, empathy, and interest to serve the people, and not just themselves. For the Democrats, the appearance of including everyone is easy to portray through false socialist promises, even though socialism has done nothing more for America than further divide races and genders. Yet, for the Democrats, it's easy to continue attracting minorities when Republicans focus on accusations more than they focus on what they can do to make America a better place for everyone.
Time and again, Republican candidates make statements that further enrage minority groups, isolating themselves to just their constant supporters. These statements may hold a lot of truth, yet focusing on blame and negativity is self-defeating, especially in politics. The point being, the Republican candidate needs to truly unify the country, and not divide and accuse.
A candidate such as Donald Trump may be refreshing for many people to listen to in his raw honesty. So many are tired of the political correctness of our time, and hearing someone like Donald Trump tell it like it is can be attractive. Yet, Trump is a risky candidate, because someone like him could further divide the country into extreme camps on opposite ends of the spectrum. We are at a time and place where we simply can't afford more division. A candidate like Marco Rubio, however, would have a more wholesome, inclusive message to convey to the country, in a much less threatening manner. His minority background, ability to truly understand minority cleavages, coupled with his strong leadership and Republican views, would give him a real shot at delivering a message that benefits everyone. In any case, America is in a serious social crisis, and in need of a strong leader.
This leader can't be just a minority, or just someone who is technically qualified. The Republican candidate needs to make sweeping strides on virtually every front. To demonstrate this point, a look at Ben Carson shows that being a minority just isn't enough. Carson is a black Republican candidate, yet has utterly failed at capturing black supporters and may not really have what it takes to pull this country together. He is a world renowned brain surgeon, but does that mean he is qualified to be president? His platform severely lacks any sort of clarity, and his speeches do not seem to resonate with the minority populations, even though Carson is technically a minority himself.
This is why the selection of a Republican candidate needs to be a very wise, thought out process, because the reality is that the Republican Party needs to make some serious comebacks. They have a lot to offer America, yet their presentation needs some very real reforms. Who they chose as their representative of the Republican Party is extremely delicate, and any miscalculation will put their chance at winning over the minority vote, and ultimately the presidency, in serious jeopardy.