'Last night was the most horrifying night of my life. Sound asleep, in the middle of the night some noises around your house awaken you up. You turn on the lights and peep from the gap in curtains, see men in boots and uniform marching across the street. Women of your neighbourhood have been lined up against the wall while loading men into armoured jeeps with black masks on their face. Dogs barking and searching the house. You wonder whether my house will be raided too. Uncertainty prevails upon your thoughts. Being a Kashmiri is a curse. Welcome to the cursed heaven'
This happens on every night in Indian Occupied Kashmir. This land has been a lynchpin of the violent struggle between India and 12.5 million Kashmiris fighting for independence since 1947. An armed insurgency that started in May 1989 has led to the enacting of several repressive laws by the Indian government. It is the most heavily militarized zone on the face of the earth. Indian Border Security Force (BSF) and Central Reserve Police Force (CRPF) has converted the life of Kashmiri residents into a living hell. Since 1989, over 95,015 people have been killed, 11 thousand women been subjected to heinous crimes of rape and custodial torture. Incidents like Gawkadal Massacre where CRPF opened fire on protestors killing at least 55, the Zukoora and Tengpora Massacre, Kunan Poshpora killings, Bijbehara Massacre, Sopore Massacre are the examples of brutal sexual abuses, ransacking homes, extrajudicial killings, torture and mass massacres of civilians.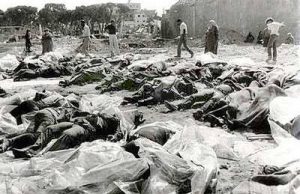 The draconian public safety Act 1978, provides forces to wreak havoc upon civilians anywhere in the valley without prior warning. India has re-instated the Cordon and Search Operations act (CASO) in order to suppress any dissident voice. Every Indian government from Nehru's Congress to Manmohan's cabinet has tried to suppress the rights of Kashmiris who want freedom.
While the previous governments have considered Kashmir as a territorial dispute, Modi government gave it a communal colour fostering violence in powder keg valley. Modi has pulled out of a coalition government tipping the valley into chaos. This tough stance comes on the back of scathing report released by the Office of the United Nations High Commissioner for Human Rights which has demanded an international probe into Human Rights violations committed at the hands of state machinery in Jammu and Kashmir. The United Nations has accused the Indian state of widespread violations in Kashmir. BJP government has refuted the statement of the report as it was expected. The Indian government has always denied International approach towards achieving peace in the region.
UN Security Council's Resolution 47 laid a framework for holding a plebiscite in order to resolve the dispute. It demanded that India must withdraw its troops from Kashmir. The Indian government refused to appoint UN arbiter as Plebiscite administrator and withdrawal of its troops.
If one takes into account the atrocities India has committed in the state of Jammu and Kashmir it is no less than naked acts of state-sponsored aggression and terrorism.
Now it is time that other parties and states of this dispute i.e. United Kingdom who left an unfinished partition agenda and Pakistan who supports the Kashmir cause on humanitarian reasons raise this issue in Security Council not for highlighting But pushing for sanctions against India. Because it endangers international peace and security in this region let alone for humanitarian causes. It is the need of the hour to curb draconian security measures in Kashmir.
The Security Council can take action to maintain or restore international peace and security under Chapter 7 of the UN charter. Sanctions measure under Article 41, encompass a broad range of enforcement options to pursue targeted peace achievement. Ranging from comprehensive economic and trade sanctions to arms embargoes. India has recently purchased S-400 anti-missile defence system from Russia which upsets the security balance apparatus between two nuclear states. The Kashmir conflict conflagration can lead to full-blown war.
Thus, it is the necessity of time that measures be taken on International forum to contain Indian aggression in any possible way of providing Kashmiris with some breathing space.