The content for this article is made possible by Cakra Studi Global Strategis (CSGS) first ever monthly discussion. The discussion was attended by students and professors from International Relations departments originating from three different campuses in Surabaya, Indonesia.
As the country with the second largest GDP per capita, Qatar's presence in the world of international politics simply cannot be ignored. The wealth Qatar possesses is also made possible through its moderate and neutral tendency in foreign policy implementation. Qatar can also be considered to have always had a very friendly relationship, at least superficially, with United Arab Emirates, Arab Saudi, and the United States. However, on 6th June 2017, the three countries along with some of their allies decided to place sanction on Qatar. In this article, the author will try to explain the reasoning behind Qatar's sanction.
Things You Need to Know
Qatar's Power.
Qatar's role in International Relations can be attributed to its hard power which is its economic massiveness. Qatar also possesses two soft powers that makes it very powerful in contemporary global politics, which is Al-Jazeera; it's government-owned major global news agency, and Qatar Airways; the four time winner of "World's Best Airline"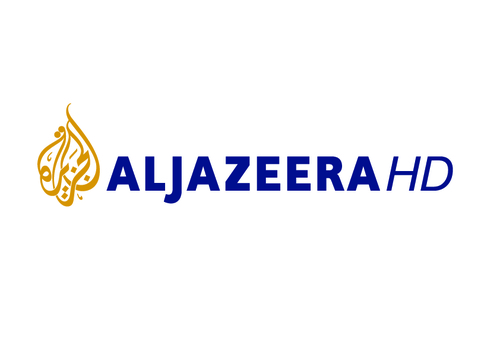 Qatar's Alignment
In the eyes of global society, it can be perceived that Qatar used to be on the same alignment as United Arab Emirates (UAE) and Arab Saudi. However, in the more current context, Qatar can be perceived to be more aligned with Iran and Turkey than before. The UAE-Saudi alignment can be said to be the antithesis of Iran-Turkey alignment, hence the recent improvement between Qatar and Iran-Turkey can be said to displease United Arab Emirates and Arab Saudi.
The Countries Imposing Sanctions
There are seven countries that imposed sanction on Qatar; Saudi Arabia, Egypt, the United Arab Emirates, Yemen, Libya, Bahrain, and Maldives.
Relief Requirement
Saudi Arabia has given 13 demands for Qatar to meet if Qatar ever wants the sanction to be alleviated. The 13 demands are; 1. Curb ties with Iran; 2. Sever all ties to terrorist groups which are specified as Muslim Broherhood, Islamic State, Al-Qaeda, and Hezbollah; 3. Shut down Al-Jazeera, its' affiliations, and 4. news outlets that Qatar funds; 5. Terminate Turkish military presence in Qatar; 6. Stop all fundings for individuals, groups, and organizations designated as terrorist by the countries imposing sanction, 7. Hand over terrorist figures; 8. End foreign interference; 9. Stop political contact with political oppositions in Saudi Arabia, UAE, Egypt and Bahrin; 10. Pay compensation for loss caused by Qatar's policies in recent years; 10. Consent to monthly audits; 11. Align itself with other Gulf and Arab countries in all relevant dimensions; and lastly 13. Agree to all demands within 10 days of the ultimatum  publication.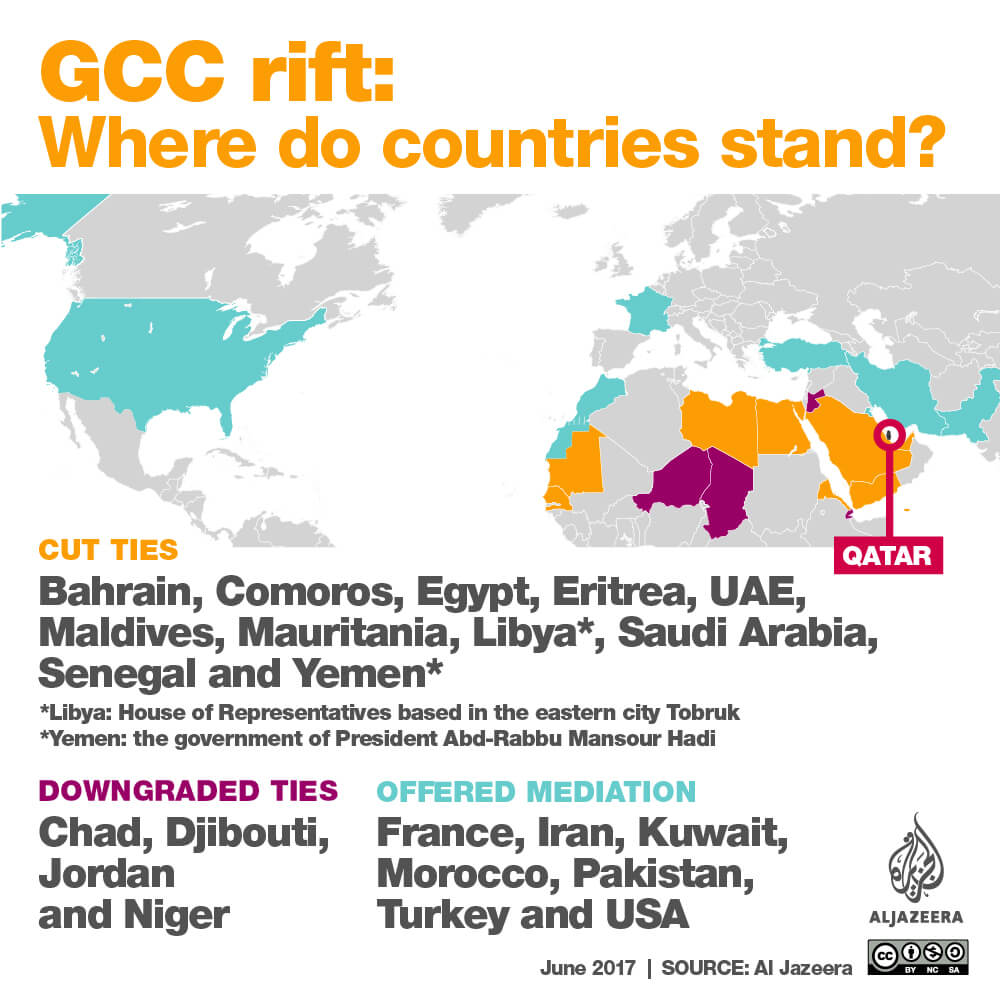 Saudi and Qatar Relations
Saudi Arabia can be said to be the pioneer of the sanction. Worth noting the chronology of the sanction; where the sanction was concluded in Gulf Cooperation Council meeting which take place right after Trump personally visited King Salman of Saudi Arabia. Those being said, understanding Saudi Arabia and Qatar relations is essential in order to understand what is currently happening in regard to Qatar's sanction. Even though both countries were often perceived to be on the same alignment, the author believes that between the two countries, relationships between the two countries are not that good even prior to the sanction. The author identifies two main factors which spark conflicts between the two countries; the controversiality perceived of Al Jazeera — which caused Al-Jazeera to be banned in Saudi Arabia, and the complex royal family issue in Qatar.
The Causes
Indeed it is undeniable that Middle Eastern international politics tend to be conflictual, and to a certain extent the place can be said to be the contemporary proxy wars playground between international superpowers. In the context of Qatar, the author identified six possible factors of conflict which leads to Qatar's sanction. The first one is the regional power politics, which the fact is that geographically, Qatar is placed in between Iran and Saudi; the two blocs of Middle East. The second factor is great power politics which initiates the proxy war in Middle East (e.g U.S, Russia, China, etc). The third one is economic disparity between countries, where Qatar is undeniably the richest and one of the largest economic powers in Middle East. The fourth one is terrorism aspect, in which Middle East countries, including Qatar, tend to have a certain sort of involvement with terrorist groups, one way or another. The fifth one is the possible controversial and provocative stance Al-Jazeera is often alleged to have, where due to its influence, it can easily affect the perception outcome of the international world towards Middle Eastern countries. The last one is ideological difference between Shia and Sunni muslims, where it has been used to explain or even justify plenty of conflicts happening in Middle East. According to the author, the factors accurate to explain what is currently happening are economic factors and the regional power politics factor, where only both, under the author's discretion, will be further discussed in depth in the next section of the article.
The Author's Conclusion
            It is common sense that for small countries, neutrality in political alignment is a must. The author strongly believes that the recent improvement between Qatar's and Iran – Turkey relations is not about Qatar abandoning its former alignment but its about Qatar neutralizing its stance in between the two power spectrum. It is also worth noting that regional power politics is, to a certain extent, inevitable. Throughout the history, regional rivalry is almost observable in every part of the civilized world; there was the conflicts between Korea, China, and Japan; the conflict between European countries like the Thirty Years' War; the rivalry in Southeast Asia like Indonesia-Malaysia 1962' confrontation. The author therefore concludes that this patterned rivalry happens also in Middle East, which means that there have always been distrusts between the Middle Eastern countries; Saudi Arabia, United Arab Emirates, Egypt, Qatar, etc. The sanction however happened mainly due to the sheer power a country as small as Qatar has. In 2004, Al-Jazeera was voted the fifth most influential global brand by brandchannel.com and one of the best five news Web sites by Webby Awards. The massive effect Al-Jazeera has in directing the view of global community is something that the author believes to be intimidating to other Middle Eastern countries; especially Qatar's neighbor Saudi Arabia. This is showcased in how shutting Al-Jazeera is one of the ultimatums of Saudi Arabia's. Regarding Qatar Airways, in spite of the fact that the U.S sanctioned Qatar and suspended its' airways, the Qatar Airways is going to buy some shares of American Airlines. In conclusion, Qatar is powerful, and its power is extremely intimidating. Saudi Arabia and its allies; afraid to not be able to anticipate Qatar's future actions, decided to persuade Trump to impose sanction on Qatar, and managed to do so.
AUTHOR'S NOTE: The information provided is an expression of author's speculations and understandings from the discussion which is done in spite of limited information and data regarding the issue. The author therefore personally apologizes if there were any unintended bias and misinformation.