Ten union confederations called for demonstrations across the country to say "no" to the reform of labor law announced by the Modi government. And Started a giant Strike
The call for a general strike launched by ten trade union confederations was widely followed in India Wednesday, September 2nd. Some 150 million people have not gone to work and started a huge strike in all regions, advance the organizers of this movement to denounce the reform of labor law announced by the Modi government.
Only "Bharatiya Mazdoor Sangh on (BMS), close to the ruling party, and the National Front of Indian Trade Unions (NFITU) did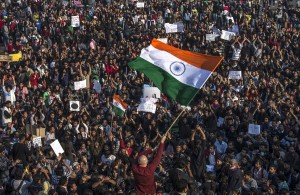 not take part in the strike," notes the Hindustan Times, which states that the sectors Most affected are "transport and the bank".
According to The Economic Times, mobilization in energy and logistics "also produces a seismic effect on the economy of the country" and the cost of this day could amount to "250 billion rupees" ($ 3.3 billion euros), based on an estimate of Assocham employer association.
Daily Mint is surprised meanwhile that the Labour Minister Bandaru Dattatreya, will be flown on the same day for Turkey to attend a G20 meeting. "This shows the state of mind of the government, it is totally indifferent to the strike," protested the leader of the All India Trade Union Congress, the union affiliated to the Communist Party of India.