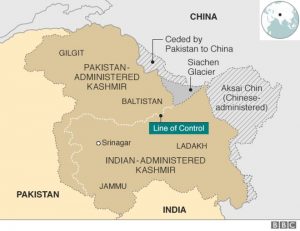 The Jammu and Kashmir Public Safety Act, 1978 and Armed Forces (Jammu and Kashmir) Special Powers Act, 1990, passed by the Indian parliament in September 1990, grant Indian troops absolute authority to curb the civil rights of the Kashmiri people without fear of being prosecuted for extrajudicial killings.
This has lead to torture, custodial deaths, rape, juvenile offences, and hostage killings in a heavily militarised zone where 500,000 – 700,000 troops are stationed. The National Human Rights Commission of India has acknowledged that Section 19 of the Protection of Human Rights Act, 1993 severely restricts its powers to investigate incidents involving armed forces.
The first-ever report on human rights' violations clearly depicts the massive state-sponsored atrocities inflicted upon Kashmiris by none other than Indian troops. The United Nations Security Council Resolution 47 adapted on April 21, 1948, expanded the mandate of The United Nations Commission for Pakistan and India to facilitate and hold a plebiscite.
However, this was never held due to the militarization of the zone by Indian troops. India has been violating Article 5 of the UN's Universal Declaration of Human Rights (UDHR) and Article 7 of the International Covenant on Civil and Political Rights, which both require that "no one shall be subjected to torture or to cruel, inhuman or degrading treatment or punishment".
Pressure must be mounted on India for being solely responsible for this crisis. The international community must put India on a watch list under Article 5 of UDHR. Let Robert Wirsing's proposal to apply international pressure more deliberately, consistently, and impartially in order to resolve the dispute be put into immediate effect.