Diplomacy exists and is used for dialogue and negotiation whereas military exists to wage wars and use hard power. Sun Tzu, in his book The Art of War states that ''the supreme art of war'' is hidden in the ability of subduing enemy without using force. Recently, military involvement in arrangements and activities that are diplomatic in their approach increased. Military resources and assets are used in bilateral and multilateral settings in order to reach positive outcomes for national security.
There are different reasons for engagement of certain countries with others. These range from ''capacity building'' to ''conflict resolution''.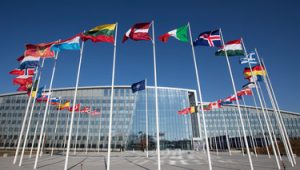 For instance, NATO can be looked through the prism of transformative diplomacy, where its purpose is to democratize civilian-military relations in target countries. Activities within the sphere of military diplomacy include: the appointment of defence attachés, establishment of bilateral and multilateral contacts, signing defence cooperation agreements, providing contacts and exchanges of military personnel, sending equipment and other material aid, offering expertise and advice on military technical areas and defence management, training of foreign military personnel and participating in military exercises for training purposes.
The focus of military diplomacy
To get slightly more vivid image, the Versailles Peace Conference and the Congress of Vienna were both occasions where military diplomacy was used with respect to diplomatic negotiations. Generally, military diplomacy can be characterized by: actors, foreign policy objectives pursued and the nature of activities. It also tends to be interlinked with phenomena such as ''gunboat diplomacy'' and ''coercive diplomacy.'' Gunboat diplomacy represents the pursuit of foreign policy goals through actual use of military (naval) forces. Furthermore, the state might choose to send their boats and forces off the coast of another country to demonstrate its military power. This was something commonly used by Russia, when they sent their naval forces near coasts of NATO members and this became known as ''probing of NATO''. In contrast to ''gunboat diplomacy'', ''coercive diplomacy'' uses all components of the armed forces, not only the naval forces. In the contemporary world, there are five basic functions of military diplomacy: gathering and analyzing information in the receiving state, promotion of cooperation between the states, organization of working visits and peaceful stay of the military units, support of business contracts for military equipment and representation of the state at official events.
This can be useful tool for pursuing national interest that is short of conflict. For instance, better relationship between Australia and Japan can be attributed to their cooperation on different UN missions in Iraq, Cambodia and East Timor. Military diplomacy can also be used to motivate political change. Myanmar was asked to improve its human rights record and to continue with democratic reforms in 2012. As a reward, it has been suggested that Myanmar could be invited to participate in US-led military exercises in Thailand or the US Navy's Pacific Partnership program. Overall, military diplomacy in the Asia Pacific has turned into multilateral enterprise where countries try to build coalitions against their competitors and at the same time, enhance valuable partnerships with their allies.
Diplomats in uniforms
The attaché, as the counterpart of the ambassador, is a diplomat in uniform with full diplomatic status whose duty was once to observe and assess military developments in a foreign country, as well as to maintain a close relationship with the foreign military elite. This is one of the practices that remained unchanged ever since European diplomacy started to flourish in the 19th century. When sent overseas to pursue military diplomacy, military personnel become ''a diplomat in uniform'' with the same privileges and rights as other embassy staff. They deliver defence cooperation programs, attend negotiations and meetings, support formal diplomatic mission, directly participate in interventions, evacuation programs and support disaster relief missions. Military attachés must know the host nation and the strategic environment. At the same time, they must observe military developments and conditions to report valuable information back to the host country. Without actionable information, decision makers cannot create conditions for successful security cooperation.