As the purpose of the international youth day is to draw attention to a given set of legal, social and cultural issues surrounding youth; Young Diplomats in partnership with the International Association for Political Science Students (IAPPS) have celebrated this special day all over the world.
​Young Diplomats Africa Regional Bureau in Chad celebrated young people and their achievements on August 12, in N'Djamena. Hundreds of Young men and women commemorated International Youth Day (IYD) by a variety of events. The commemorations took place from 5th of August till 12th August 2018.
The last event consisted of key note addresses by​​ the Africa Regional Director, Idriss Zackaria, government officials, elders and leaders youth associations, social enterprisers, young entrepreneurs, private sector, diplomatic corps, academia and media, in addition to the Chadian Youth and Sports Minister, Young Diplomats' diplomatic advisor; Mahamat Almastour, and the South African Ambassador to Chad.
On the other hand, Young artist from Chad, Yasmine Abdallah staged a short play that features human trafficking, citizenship and belonging – In her message to the youth; Yasmine said that African youth truly needs more support and help in the moments when doubts and fears flood our hearts. "Why are you afraid? Don't be afraid, because we stand by you!"
The celebration were joined by over 500 young people, policymakers, youth and women association representatives and elders together voiced the need for empowering the youth during the one day plenary session that took place at Radisson Blu hotel, in N'Djamena,  on August 12, 2018.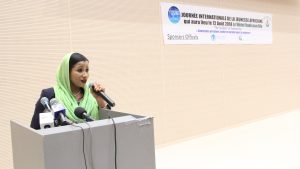 In his message to the youth, Young Diplomats Africa Regional Director, Idriss Zackaria emphasized the importance of skills training as an important transition between education and employment for young women and men. "Skill is the only tool that goes with you everywhere, and that's why our team is committed to bringing your unique African dream and experience to life. We take pride in learning what you desire in a changing world.'' Zackaria told participants of the celebrations who mostly are youth.
Young Diplomats' diplomatic advisor Mr. Mahamat Almastour said on occasion that African youth are power of a nation and engine of development for our continent, in support of the need for empowering young women and men.  He asserted that investing on youth is investing on nations.
Presentations on illegal migration, terrorism, non violence at schools, unemployment of youth, plenary sessions and artistic performances among others were part of the celebrations. Human trafficking and illegal migration are a rampant in the African continent.
Meanwhile, South African Ambassador to Chad, Titus Matlakeng, had very much welcomed the initiative; he said that youth development is a priority of the African Union. "It's very important for us to exchange our ideas and share our African stories, because our problems are common and we share the same dreams." Matlakeng said in his speech to the African youth.
The celebration was part of various youth mobilization activities on ground. Speaking at the occasion, young Chadian leader, Yousra Ndiaye who represents voices of many youth in the African continent, she argues that African migrants who leave their countries in search of work are currently not adequately protected by international law.
It's worth mentioning that it is a commitment for Young Diplomats towards supporting young people, in particular young girls, in becoming leaders and ensuring that their role in Africa society and economy is adequately valued and recognized.