A Turkish soldier who went missing this week on the border with Syrian territory controlled by Islamic State has been seen in a hospital run by the militants, Hurriyet newspaper reported on Saturday.
If confirmed, the soldier's capture would be a major problem for Turkey, after it stepped up military action against Islamic State in July, opening its air bases to U.S.-led coalition war planes and launching air strikes.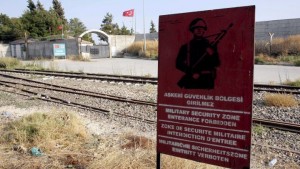 The soldier vanished and another was killed in cross-border shooting with Islamic State fighters on Tuesday near the Turkish town of Kilis, close to Syrian territory that has been under Islamic State control for months.
According to security forces in Ankara who spoke to daily Hürriyet on Sept. 5 citing intelligence reports, Sefer T. was wounded from his foot during the clash. The soldier was taken by militants to an ISIL-controlled hospital near the Syrian city of Aleppo, the source said.Turkish officials declined to comment.
Turkish authorities also received reports suggesting that ISIL considered to transfer the soldier to Mosul in Iraq, although this claim could not be verified.
Officials stressed that efforts have been continuing to release the Turkish soldier, while ruling out any negotiations with ISIL involving an exchange.
A number of ISIL-linked social media accounts have been suggesting that the group could only release the Turkish hostage when Ankara agreed to leave the anti-ISIL coalition.
Late last month, Islamic State released a video accusing Turkish President Tayyip Erdogan of "treachery", and urged Turks to rise up against him.
This would not be the first time Islamic State has held Turkish hostages. Last year 46 Turks, including senior diplomats, were kept captive for more than three months before being released.
They were freed at a time when Ankara was still being reluctant to engage in efforts to stop Islamic State's spread, a policy it changed in July.
The timing of the capture is also politically problematic for Erdogan and his AK Party, which is preparing for a second election in November after losing its parliamentary majority in a June vote.
Last year the jihadists seized 46 Turkish citizens in the Iraqi city of Mosul. The hostages were released unharmed after more than three months, but fears for their fate were seen as a key reason for Ankara's reticence to engage in anti-ISIL operations.
Turkey has a 900-km (558-mile)-long border with Syria and has borne the brunt of the refugee crisis sparked by the Syrian civil war, hosting around 2 million people who have fled the fighting.
Polls have consistently showed little appetite amongst Turks for greater involvement in the Middle East conflagration, and this incident will likely be leapt upon by Erdogan's opponents, who are strongly critical of his foreign policy.
Read more: http://www.dailymail.co.uk/wires/reuters/article-3223401/Missing-Turkish-soldier-seen-Islamic-State-hands–Hurriyet.html#ixzz3ksfLDMR9
Follow us: @MailOnline on Twitter | DailyMail on Facebook