The Chinese government is in talks with U.S. officials to return an unmanned underwater drone seized Dec. 15 in the South China Sea 50 nautical miles northwest of Subic Bay, China's Ministry of National Defense said Dec. 17, Reuters reported.
The drone, known as an unmanned underwater vehicle (UUV), was taken on Thursday, the first seizure of its kind in recent memory. The Pentagon went public with its complaint after the action and said on Saturday it had secured a deal to get the drone back.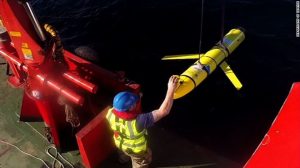 Through direct engagement with Chinese authorities, we have secured an understanding that the Chinese will return the UUV to the United States," Pentagon spokesman Peter Cook said in a statement.
The incident drew criticism from U.S. President-elect Donald Trump, who has vowed to take a more aggressive approach in dealing with Beijing.
The drone, which the Pentagon said was operating lawfully and was clearly marked as U.S. property, was collecting data about the salinity, temperature and clarity of the water about 50 nautical miles northwest of Subic Bay, off the Philippines.
The Chinese government also said that it was opposed to drones operating in "the presence" of Chinese waters. According to the Chinese statement, the Chinese naval vessel spotted the U.S. vessel and initially investigated out of concern for navigational issues. After initially remaining silent, the U.S. Department of Defense confirmed the capture of the submarine Dec. 16, saying that the vessel was clearly marked and is endowed with sovereign immunity. U.S. President-elect Donald Trump condemned the seizure of the drone as an "unprecedented act." The incident comes amid increasingly harsh rhetoric between Chinese leaders and the incoming Trump administration, though frictions have been worsening between Washington and Beijing for years as the United States has sought to counter Chinese expansionism in the disputed waters.