On 17th of October, an eighteen years old student perpetrated a mass shooting in Kerch, in the Russia annexed peninsula of Crimea.
The student of the Kerch Polytechnic College carried out the attack starting in the canteen, where he allegedly detonated an explosive device filled with "metal objects". Students present in the canteen said to have heard several explosions, and these were heard from the surrounding area. He then proceeded to a general firing from class to class, killing nineteen students and hurting more than forty.
Rifle and handguns ownership is highly regulated in Russia, making a shooting like this one rare. From 2000 to 2014 four mass shootings were reported, making the fatality rate per 100.000 just 0.01, a low number compared to the staggering 0.34 in neighboring Finland or 1.30 in Norway.
State policy in Russia makes a point of honor for security, it is a national priority and one of the matters of high importance for the Kremlin. Russia is developping technology to be at the forefront of cyberwar, how could this ever occurred in a region of particularly inclined to turmoil as Crimea is since its annexation?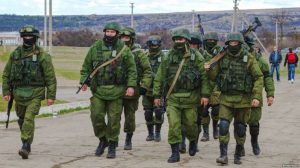 Since March 2014, the Crimea peninsula was subjected to a takeover of the territory by pro-Russian separatists, despite most foreign governments not supporting the annexation of the Republic of Crimea and the federal city of Sebastopol as subjects of Russia. Ukraine never ceases to claim sovereignty over the Crimean Republic, being backed up by the United Nations General Assembly Resolution 68/262, even though this latter is non-binding.
Russia has not demonstrated the proper competence required to maintain the safeguard of a region being ruled de facto for over four years now. This attack can be seen by the international arena as the perfect juncture to launch a new commission that tackles the matter with its due deference. The gravity of an unlawful annexation and the inability of Russia to demonstrate the proper competence required to maintain the safeguard of a region being ruled de facto should only generate an appropriate response.
The world order has more and more the aspects of a polycentric model characterized by the upsurge of global insecurity due to regional instability. An early tentative of democratic legitimization by holding a Crimea-only referendum in 2014 was deemed unconstitutional by the Constitutional Court of Ukraine. Crimean population is predominantly drawn to Russian culture and civilization, however, it is Ukrainian de jure. The anciently known as Tauric Peninsula has always been subject to colonization -from Greeks to Genoese- and an agreement considering the three parties at stake could lay foundation on this terrible attack to ensure the rightful geopolitical accommodation of the Republic.
this article has been written by Alberto Armengol, The YoungDiplomats Spain director !