It was reported today that hundreds of  millions were hidden in offshore accounts by Jose Mourinho and Cristiano Ronaldo and many other football players. The scandal was named Football Leaks in reference to Wikileaks. This is more than just fiscal evasion, it's also about Geopolitics. Many financial experts use the grey areas between the different countries all over the five continents to avoid paying taxes.
The enormous scandal of Football Leaks was supposed to be revealed by Sunday by the German newspapers Der Spiegel, but meanwhile, an Italian newspaper called "Espresso" released a teaser of the stories that will makes the headlines all over Europe next week.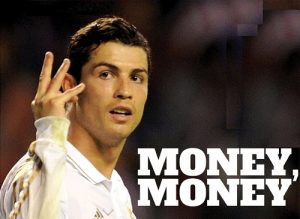 Geopolitics and Stability
What is interesting in terms of Geopolitics is that there is a strong coordination from journalists from 12 Europeans countries to shed light on this affairs. The financial arrangements were made all over the world by the agents of the football players. From the British Virgin Islands, to Panama throughout Switzerland more than 25 countries were used in this process.
We also note that besides financial reasons, geopolitical factors especially stability in these countries were advanced to choose the good place to launder money. Indeed some places in South America were deemed to instable to do business
Prestigious names are  mentioned  in the files are Real Madrid star Cristiano Ronaldo and Manchester United Coach Mourinho. Mentions that apparently Ozil,  the German Arsenal superstar is also involved.
Clubs from All Over Europe are Involved
Clubs all across Europe are involved. Also involved are six Italian clubs – Juventus, Inter, Milan, Roma, Napoli and Torino.
French players have also been involved but for now the only name that got out was the name of Falco, the Colombian striker that plays for Monaco and that is represented by Jorge Mendes.
Ronaldo is supposed according to the sources to have transferred over €70m into accounts registered with Tollin in the British Virgin Islands between 2009 and 2014.
Another €74m were deposited in a Swiss financial account in December 2014, which is also when Ronaldo sold his image rights to Singapore businessman Peter Lim. Basically this means that the famous striker did not pay any taxes on these 74 millions. Which is highly illegal. He faces prison.
Who is Jorge Mendes, the key actor of Football Leaks
He is represented by Jorge Mendes, who also works for Mourinho, and it's reported the former Inter Coach had similar arrangements.
Between 2010 and 2013, Mourinho was investigated by Spanish financial police during his spell at Real Madrid and he's expected to pay €5.5m in fines and back-dated taxes.
An investigation has been going on for seven months with reporters from 12 European publications working together on this huge story – the EIC (European Investigative Collaborations).
They promise to shed light on the alliances between agents who effectively control the transfer market and the various systems used to manipulate multi-million euro contracts using offshore and Swiss accounts.