Indian Foreign Policy runs through the engine of need of the hour and ability to control global issues with in-hand solutions.
As George Modelski once said –
'Foreign policy is the system of activities evolved by communities for changing the behavior of other states and for adjusting their own activities to the international environment';
we are mending it as per our needs and deeds in international diaspora.India – a secular, sovereign, socialist, democratic, republic, bounded by these five multifaceted broadly explained terms acts as an intended multilateral dimension to boost our foreign policy in very significant manner. Indian foreign policy treats our diplomacy in idealistic manner with some core principles of Non Alignment, Sarve Bhavantu Sukhina and Nation First later. Whether, it will be the formulation of NAM after the meet of Asian nations in Bandung Conference proposed by Jawaharlal Nehru or the stress on preserving national interest first by Indira Gandhi or self reliance idea by Rajiv Gandhi or Gujral Doctrine by Indra Kumar Gujral or going nuclear by Atal Bihari Vajpayee or shifting it towards East from West by Manmohan Singh, the core principle always stands on "Vasudhaiva Kutumbakam"- which is based on the ancient evident traditional principles laid by Great King Ashoka while propagating Buddhism in South Asia without use of any weaponry silently. This is the first ever example of Indian Diplomacy on the lines of peace and prosperity.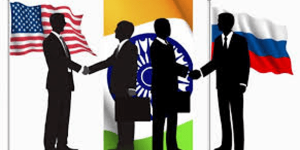 Today, with the new Prime Minister Narendra Damodardas Modi our policy replicates pro active approach with neighboring countries named as 'Neighbourhood First' with special focus towards South Asia, IOR nations and West simultaneously. There are two basic reasons to do so – First, building Indian stand at the world order and Second, access to the markets from where primary and tertiary products can be interchanged. India is now the world's fastest growing economy which means it needs more market, energy, information, technology, capital, equipment, resources and connectivity to prosper further goals and remove barriers from free flow of goods and services. So, as to did it in practical approach some very key efforts put by Indian policymakers with the help of diplomatic means in regional space like – Defence sales to Mauritius, Bangladesh-Bhutan-India-Nepal (BBIN) grouping for advance motor vehicle movement and inter-grid connectivity, Kaladan multimodel project, Land Border Agreement with Myanmar, permission to access Chittagong port, leased Chabahar port from Iran, and energy deals with Nepal etc. Overall, multipronged strategy with multidimensional approach at multilevel co-operational capability leads India to the heights of diplomatic keenness.
Turning page from Look East to Act East is bridging diplomacy with developmental edges to leverage international co-operation and partnership to boost Indian domestic development. With this change, our sub focus is to balance China in IOR region with Line of Credit to smaller inefficient Islandic nations. Grave concerns arose when Chinese footprints rise in this region with OBOR and Silk road project particularly focusing Pakistan; an arch old dark shade of India, diplomatic intervention succeeded our foothold automatically to Chabahar in Iran. It's a success of our diplomatic engagements that we are not in direct war with any nation from last 20 years after Kargil and maintaining rugged neighbors at West, North, and North-East simultaneously.
India is developing its hidden capabilities with time to garnish its position adequately. We are not in the position to lead or set rules of international order but paving slightly towards bolstering our position in main domain of decision making. ICJ ruling on Jadhav, WTO negotiations with USA, membership at SCO, promulgation of BIMSTEC to counter Pakistan over SAARC are the significant examples of workable success of India at diplomatic front. Soon, India will get their place at APEC membership, UN Security Council (P5+1) to establish itself as a key decision maker at top notch. New Delhi came with new type of diplomatic conclave at India named as Raisina Dialogue to act as a bridge for new ideas, concepts, possibilities and opportunities from out of the bureaucracy also. Several NPO, NGO, think tanks are now actively working with specialization in specific areas for the empowerment of our status in regional and global scale.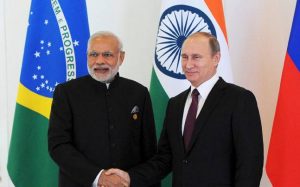 Core strategic priorities of Indian foreign policy and diplomacy vested in –
Increasing role of India in global governance.
Developing own circle of leadership for regional balance.
Deter Pakistan from the lines of terrorism.
Maintaining equal status quo with China.
Lure international community to support Indian rise; atleast domestically and regionally.
Safeguarding IOR from evident contenders.
Strategic outposts at key geographical locations.
Shaping role of BIG BROTHER into new outfit to pacify regional satisfaction.
With priorities towards neighbors, India is also knitting its web to prepare itself for future leadership in Asia. Among Asian Tigers of high economic growth and presence of DRAGON in Asian central mainland, India is now 3rd largest economy of world on PPP basis, leaving Japan behind us. Northern and North-West neighbors can act as a dodge to India but we are balancing in every sense like security, regional peace, nuclear balance, trade impact, and most importantly border issues. The high level meetings of defense personnel's, frequent visits by top leaders, framing of bilateral agreements, humanitarian access to individuals, and breaking logjams or standoff by talks is living examples of our foreign policy.
"VASUDHAIVA KUTUMBAKAM" was and is the core ideology of Indian thought making process which means welfare for all. We are standing with it, from last 2000 years as an ancient sutra for eternal existence of humanity. In modern times where theory of nation-state is relevant, we people are living example of unity in diversity from centuries.
Of all this efforts lies into the ground, some structural hitch cocks still decelerating Indian pace like – Lack of strategic thinkers, low numbers of Indian Foreign Services personals, poor diplomatic skill sets, blurred blueprint of Indian vision on global issues, follow-up habit towards global leaders, poor performance of intelligence agencies (especially internal), political restraints on vague decisions, and resistance by states (provinces). Several issues were not treated properly in past by Indian side which dented our image regionally, when it comes in case of Sri Lanka, Tibet, Myanmar, Maldives and Bangladesh. Those mistakes even caused assassination of two Indian PM's Rajiv Gandhi and Indira Gandhi. We paid really huge in those terms and now learned a lot to counter these types of shortcomings in future.
Indian foreign policy is now guided by institutional coordination and follow-up action on the policy made by government at North Block. This place is now embedded by new minds and our appointments are now more comprehensive with certain minimum skill sets required. Practical application of key policies is now ensured by Ministry of External Affairs and even Prime Minister's Office is playing very significant role to figure out and solve real issues as they really want. Now on, India is working on consensus building, pouring young Indian talent pool in action, and more political consultation to grossly perform.
We are ready for steady go.